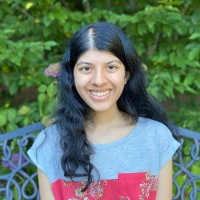 Instead of a transcript, we wrote a summary of what we learned about Anya from her interview.
Anya is an undergraduate research intern at ISB who is looking to pursue the next 4 years at Cornell University. Though she is still deciding, Anya is currently planning to study computer science, biology, or economics as a major. She has completed several programs and internships. Notably, she designed her own summer internship. Her project focused on a digital online art piece on Alzheimer's to create more awareness about the disease. Shukla pursued a gap year following high school. She took this time to focus on herself, reflect and figure out what she wanted to pursue in college. During her gap year, Anya worked at Starbucks in order to strengthen her social skills, volunteered to benefit the overall community, worked in racial equity and arts, and volunteered at ISB.
Anya previously completed a 7-week high school internship here at ISB. This internship had a broad focus on systems medicine overall. Her current internship proved to be more in depth and focused on a specific project. Anya and partner Connor are currently focused on developing two activities to teach high school students computational thinking and various concepts such as correlation and logistic regression. When asked what advice Anya can give to rising seniors applying to college, Anya said for seniors to reflect on what is most important to them and focus on their own interests. It is important to take time for yourself and don't let your last year of high school be all about college, have a good time and make sure to make lifelong memories.