Here you can find tips and tricks for each part of the application, interview, and internship process! Simply click on each image to be taken to a YouTube video compiled by this years' intern cohort, or click the YouTube link manually listed below in it's appropriate section. Each video aims to help future intern applicants and interns be successful throughout their individual journey! See other helpful tips and tricks down below: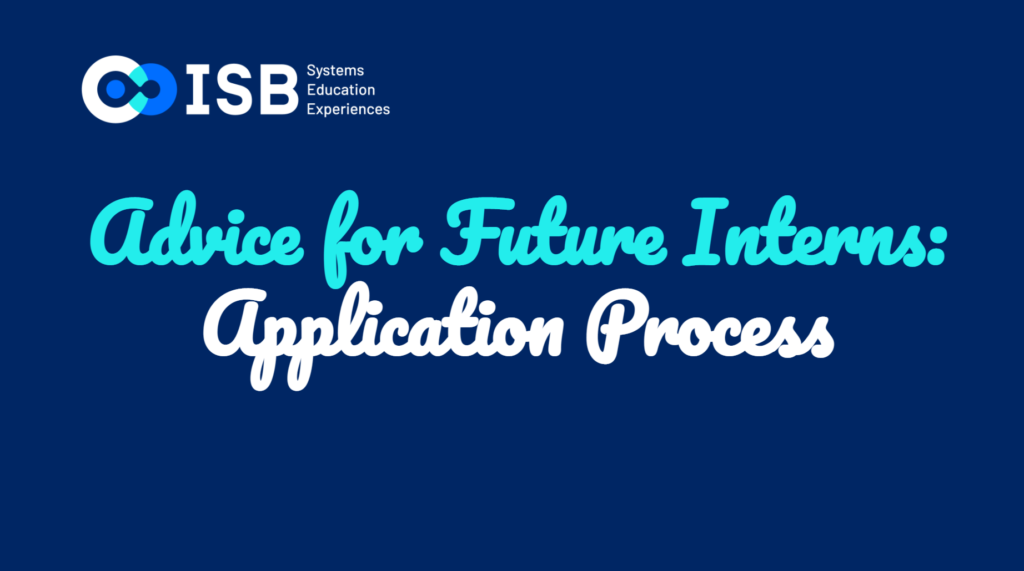 Application Process:
It may be helpful to keep a spreadsheet with a list of all of the requirements of the application – this will help keep you organized and ensure that you've submitted all the required components
Be specific about what you are interested in researching. You may want to look at research topics and articles created by ISB scientists on the ISB website. If any of these interest you, you may want to talk about what specifically interests you so that the SEE team can place you in a project which you will enjoy
Talk about who you are, your background, your motivation for learning science, what you hope to get out of the internship (what you want to study, why you want to study it), future goals/career plans you may have (as well as how this experience will help you achieve them), and anything else that shows your motivation

Advice for Future ISB High School Interns – Application Process – YouTube

(time stamps for specific sections below)

Advice for Future Interns: Introduction (0:00-0:40)
Advice for Future Interns: Application Process (0:41-0:43)
Application Process: Cover Letter (0:44-2:00)
Application Process: Resume (2:01-3:10)
Application Process: Additional Document Section (3:11-3:54)
Application Process: Letter of Recommendation (3:55-4:48)
Application Process: Overall Advice (4:49-5:23)
Good luck! (5:24-5:26)
Interview Process:
Be prepared! Look at past interns' websites/projects, educate yourself about ISB, their values, and systems biology, learn about possible mentors and the people who'll be interviewing you
Be kind and respectful towards your interviewers, maintain a professional yet organic tone in your voice. However, also be enthusiastic and genuine in your responses. Remember to express what makes you, you!
Come with specific questions (they are what make you stand out)
Being nervous is normal, it just means that you care, remember that the interviewers are just looking to get to know you and your interests

Advice for Future ISB High School Interns – Interview Process – YouTube

(

time stamps

for specific sections below)

Advice for Future Interns: Interview Process (0:00-0:02)
Interview Process: Preparation (0:03-1:13)
Interview Process: During (1:14-2:06)
Interview Process: After (2:07-2:52)
Good luck! (2:53-2:56)
Internship:
Try your best to communicate with the intern cohort and especially your partners and mentors
Break down big concepts into smaller steps
Ask questions!

Advice for Future ISB High School Interns – During the Internship – YouTube

(

time stamps

for specific sections below)

Advice for Future Interns: Internship (0:00-0:02)
Internship Advice: Meetings (0:03-1:03)
Internship Advice: Productivity (1:04-2:21)
Internship Advice: Project (2:22-3:21)
Internship Advice: Communication (3:22-4:31)
Advice for Future Interns: Conclusion (4:32-5:01)
Farewell from ISB's 2021 High School Intern Cohort! (5:02-5:11)
Extra Resources:
In addition to the videos and tips above, we wanted to provide you with extra resources that helped us be successful on our journey! We recommend starting with the ISB website and exploring pages that sound interesting to you to better understand the company. Thebalancecareers.com is another great website to start at that provides helpful tips for cover letters, resumes, and work skills while also providing specific examples for high school students. However, there are many other helpful job websites that you can reference such as indeed, chegg, etc., Thebalancecareers.com is only one of many!
While the links above may prove helpful for you throughout your application, interview, and internship process, we also strongly encourage you to use your resources, such as the internet, to your advantage! We understand that the internet can be overwhelming with information, however remember to take a deep breath and use information that you resonate with and feel is from a credible source. Here are some example search terms that we found to be helpful:
High School Resume Template
What should a good resume and cover letter include
How to make your resume and cover letter stand out
How to stand out in your interview
Tips for remote communication
How to showcase your individuality in an application