Welcome to the Systems Education Experiences (SEE) Summer High School Research Interns 2021 website. This website represents the work and experiences of the interns over the course of the summer as a part of the Baliga, Gibbons, and Hadlock labs. The Institute for Systems Biology is the first ever non-profit systems biology institute of which the SEE program stems from. The SEE program in the Baliga Lab seeks to provide students who are interested in STEM from underrepresented and underprivileged backgrounds the opportunity to explore systems biology. We are so grateful for having the opportunity to intern with ISB this summer and showcase all that we learned throughout this website!
What was significant about this group?
Each intern was from a different state! From the big city of Atlanta to the Pacific Coast Highway in California, all the interns were spread across the country.
This meant being in different time zones and having to plan meetings accordingly. We learned about the unique aspects and current challenges that each state is facing in these unprecedented times, expanding our views of the world around us through our peers! It has been an invaluable experience to be able to work with interns across the country and ISB staff throughout the world.
---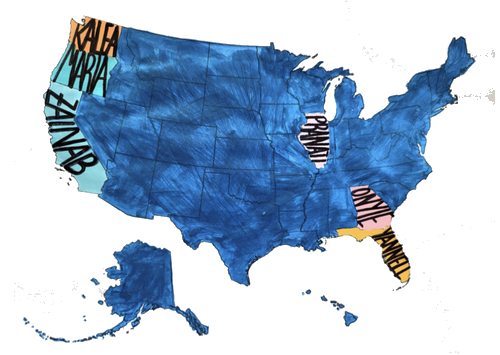 Favorite Part of our State:
California: The beach and amusement parks
Florida: Best sunrises
Georgia: The food selection
Illinois: Chicago skyscrapers
Oregon: The coast and beaches
Washington: Amazing hikes
---
How did remote learning affect our internship?
This is the second year the high school internship at ISB was conducted virtually due to COVID-19 safety precautions. Although we were not able to go into the ISB facility and participate in hands on lab experiments, we were able to discover and learn more about computational biology and machine learning which carried over into the projects we pursued. While everything was done through a computer screen, we were able to create memorable connections and experiences!
If you could describe your internship experience in a phrase, what would you say?