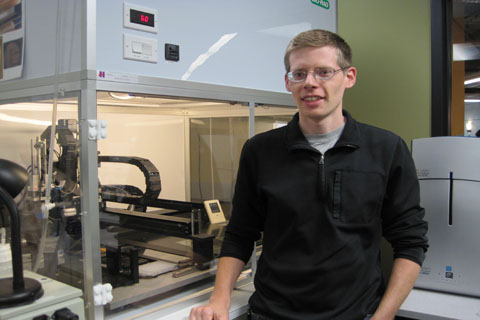 Education:
Bruz went to Western Washington University knowing he wanted to study biology and progressively began to focus more and more on biochemistry. In addition to his studies, Bruz worked as a mechanic which actually helped him get his job at ISB as his mechanical experience translated well into troubleshooting new lab machinery or technology.
ISB:
Bruz came to ISB in 2000, right after he received his bachelors' degree.  He is officially part of the Galitski lab, but he works almost exclusively in the microarray facility. This group contains Bruz and one other, and they work on new microarrays daily. Bruz's biggest surprise about his job was the amount of software development he has to do. He says about 50% of his work has to do with programming, specifically creating programs he can use to analyze his data.
Bruz's favorite part about ISB is the people. They're understanding and nice. Seeing as the scientists at ISB are sort of like costumers to his lab, he feels they are incredibly respectful and kind towards him. 
Words of Wisdom:
Bruz advised us to figure out what we wanted to do earlier rather than later. He also shared that we should experience the "real world," and make sure to broaden our tastes to subjects other than science. This would make us more rounded people and we won't really be missing out on anything by sharing our attention.