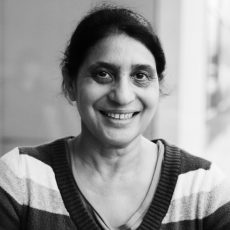 Research Associate
Amardeep Kaur is a Research Associate in the Baliga Lab. Over her 22 years in scientific research, she has participated in various projects, including sequencing portions of Chromosome 15 as part of the Human Genome Sequencing Consortium.  She has also used various experimental techniques (i.e., genetic knockout mutants, microarray studies, growth assays) along with various software tools to elucidate gene regulatory networks of halophilic archaea Halobacterium salinarum (Kaur et al, 2006, 2010). Amardeep worked collaboratively to study adaptive prediction behavior of Saccharomyces cerevisiae where novel associations between two different environmental factors were investigated. 
Currently, Amardeep's research projects involve experiments to discover new methods to repress antibiotic resistance using E. coli and to understand the complexity of tuberculosis and its infectious agent, Mycobacterium tuberculosis (Mtb). There is an urgent need to better understand the phenotypic heterogeneity of Mtb to identify new antitubercular drug targets. She works in the BSL-3 lab to generate various gene knockdown strains using CRISPR interference (CRISPRi) to identify vulnerabilities in Mtb that may be exploited as potential drug targets. She is involved in determining minimum inhibitory concentrations and performing kill curve experiments with antibiotic-treated CRISPRi-mediated knockdown strains to determine their susceptibility to various drugs. Additionally, she has been using high-throughput Biolog phenotype microarrays (with Omnilog instrument) to analyze the metabolic capabilities of the CRISPRi-mediated knockdown strains. Amardeep also helps in projects to investigate the transcriptional response of Mtb in response to different environmental conditions using RNA-seq and Path-seq.
Amardeep carries out regular lab duties such as ordering lab's consumable supplies, keeping track of NGS reagents, and organizing Mtb strains in BSL3 laboratory freezers, etc.
Publications
4882752
Kaur
items
1
chicago-fullnote-bibliography
0
default
asc
year
1
1
410
%7B%22status%22%3A%22success%22%2C%22updateneeded%22%3Afalse%2C%22instance%22%3A%22zotpress-a55e8c7560041d7f0b018440ce6d976e%22%2C%22meta%22%3A%7B%22request_last%22%3A0%2C%22request_next%22%3A0%2C%22used_cache%22%3Atrue%7D%2C%22data%22%3A%5B%7B%22key%22%3A%22WVYUJJXD%22%2C%22library%22%3A%7B%22id%22%3A4882752%7D%2C%22meta%22%3A%7B%22creatorSummary%22%3A%22Arrieta-Ortiz%20et%20al.%22%2C%22parsedDate%22%3A%222023-02-23%22%2C%22numChildren%22%3A0%7D%2C%22bib%22%3A%22%3Cdiv%20class%3D%5C%22csl-bib-body%5C%22%20style%3D%5C%22line-height%3A%201.35%3B%20padding-left%3A%201em%3B%20text-indent%3A-1em%3B%5C%22%3E%5Cn%20%20%3Cdiv%20class%3D%5C%22csl-entry%5C%22%3EArrieta-Ortiz%2C%20Mario%20L.%2C%20Min%20Pan%2C%20Amardeep%20Kaur%2C%20Evan%20Pepper-Tunick%2C%20Vivek%20Srinivas%2C%20Ananya%20Dash%2C%20Selva%20Rupa%20Christinal%20Immanuel%2C%20Aaron%20N.%20Brooks%2C%20Tyson%20R.%20Shepherd%2C%20and%20Nitin%20S.%20Baliga.%20%26%23x201C%3BDisrupting%20the%20ArcA%20Regulatory%20Network%20Amplifies%20the%20Fitness%20Cost%20of%20Tetracycline%20Resistance%20in%20Escherichia%20Coli.%26%23x201D%3B%20%3Ci%3EMSystems%3C%5C%2Fi%3E%208%2C%20no.%201%20%28February%2023%2C%202023%29%3A%20e0090422.%20%3Ca%20href%3D%27https%3A%5C%2F%5C%2Fdoi.org%5C%2F10.1128%5C%2Fmsystems.00904-22%27%3Ehttps%3A%5C%2F%5C%2Fdoi.org%5C%2F10.1128%5C%2Fmsystems.00904-22%3C%5C%2Fa%3E.%20%3Ca%20title%3D%27Cite%20in%20RIS%20Format%27%20class%3D%27zp-CiteRIS%27%20href%3D%27https%3A%5C%2F%5C%2Fbaliga.systemsbiology.net%5C%2Fwp-content%5C%2Fplugins%5C%2Fzotpress%5C%2Flib%5C%2Frequest%5C%2Frequest.cite.php%3Fapi_user_id%3D4882752%26amp%3Bitem_key%3DWVYUJJXD%27%3ECite%3C%5C%2Fa%3E%20%3C%5C%2Fdiv%3E%5Cn%3C%5C%2Fdiv%3E%22%2C%22data%22%3A%7B%22itemType%22%3A%22journalArticle%22%2C%22title%22%3A%22Disrupting%20the%20ArcA%20Regulatory%20Network%20Amplifies%20the%20Fitness%20Cost%20of%20Tetracycline%20Resistance%20in%20Escherichia%20coli%22%2C%22creators%22%3A%5B%7B%22creatorType%22%3A%22author%22%2C%22firstName%22%3A%22Mario%20L.%22%2C%22lastName%22%3A%22Arrieta-Ortiz%22%7D%2C%7B%22creatorType%22%3A%22author%22%2C%22firstName%22%3A%22Min%22%2C%22lastName%22%3A%22Pan%22%7D%2C%7B%22creatorType%22%3A%22author%22%2C%22firstName%22%3A%22Amardeep%22%2C%22lastName%22%3A%22Kaur%22%7D%2C%7B%22creatorType%22%3A%22author%22%2C%22firstName%22%3A%22Evan%22%2C%22lastName%22%3A%22Pepper-Tunick%22%7D%2C%7B%22creatorType%22%3A%22author%22%2C%22firstName%22%3A%22Vivek%22%2C%22lastName%22%3A%22Srinivas%22%7D%2C%7B%22creatorType%22%3A%22author%22%2C%22firstName%22%3A%22Ananya%22%2C%22lastName%22%3A%22Dash%22%7D%2C%7B%22creatorType%22%3A%22author%22%2C%22firstName%22%3A%22Selva%20Rupa%20Christinal%22%2C%22lastName%22%3A%22Immanuel%22%7D%2C%7B%22creatorType%22%3A%22author%22%2C%22firstName%22%3A%22Aaron%20N.%22%2C%22lastName%22%3A%22Brooks%22%7D%2C%7B%22creatorType%22%3A%22author%22%2C%22firstName%22%3A%22Tyson%20R.%22%2C%22lastName%22%3A%22Shepherd%22%7D%2C%7B%22creatorType%22%3A%22author%22%2C%22firstName%22%3A%22Nitin%20S.%22%2C%22lastName%22%3A%22Baliga%22%7D%5D%2C%22abstractNote%22%3A%22There%20is%20an%20urgent%20need%20for%20strategies%20to%20discover%20secondary%20drugs%20to%20prevent%20or%20disrupt%20antimicrobial%20resistance%20%28AMR%29%2C%20which%20is%20causing%20%3E700%2C000%20deaths%20annually.%20Here%2C%20we%20demonstrate%20that%20tetracycline-resistant%20%28TetR%29%20Escherichia%20coli%20undergoes%20global%20transcriptional%20and%20metabolic%20remodeling%2C%20including%20downregulation%20of%20tricarboxylic%20acid%20cycle%20and%20disruption%20of%20redox%20homeostasis%2C%20to%20support%20consumption%20of%20the%20proton%20motive%20force%20for%20tetracycline%20efflux.%20Using%20a%20pooled%20genome-wide%20library%20of%20single-gene%20deletion%20strains%2C%20at%20least%20308%20genes%2C%20including%20four%20transcriptional%20regulators%20identified%20by%20our%20network%20analysis%2C%20were%20confirmed%20as%20essential%20for%20restoring%20the%20fitness%20of%20TetR%20E.%20coli%20during%20treatment%20with%20tetracycline.%20Targeted%20knockout%20of%20ArcA%2C%20identified%20by%20network%20analysis%20as%20a%20master%20regulator%20of%20this%20new%20compensatory%20physiological%20state%2C%20significantly%20compromised%20fitness%20of%20TetR%20E.%20coli%20during%20tetracycline%20treatment.%20A%20drug%2C%20sertraline%2C%20which%20generated%20a%20similar%20metabolome%20profile%20as%20the%20arcA%20knockout%20strain%2C%20also%20resensitized%20TetR%20E.%20coli%20to%20tetracycline.%20We%20discovered%20that%20the%20potentiating%20effect%20of%20sertraline%20was%20eliminated%20upon%20knocking%20out%20arcA%2C%20demonstrating%20that%20the%20mechanism%20of%20potential%20synergy%20was%20through%20action%20of%20sertraline%20on%20the%20tetracycline-induced%20ArcA%20network%20in%20the%20TetR%20strain.%20Our%20findings%20demonstrate%20that%20therapies%20that%20target%20mechanistic%20drivers%20of%20compensatory%20physiological%20states%20could%20resensitize%20AMR%20pathogens%20to%20lost%20antibiotics.%20IMPORTANCE%20Antimicrobial%20resistance%20%28AMR%29%20is%20projected%20to%20be%20the%20cause%20of%20%3E10%20million%20deaths%20annually%20by%202050.%20While%20efforts%20to%20find%20new%20potent%20antibiotics%20are%20effective%2C%20they%20are%20expensive%20and%20outpaced%20by%20the%20rate%20at%20which%20new%20resistant%20strains%20emerge.%20There%20is%20desperate%20need%20for%20a%20rational%20approach%20to%20accelerate%20the%20discovery%20of%20drugs%20and%20drug%20combinations%20that%20effectively%20clear%20AMR%20pathogens%20and%20even%20prevent%20the%20emergence%20of%20new%20resistant%20strains.%20Using%20tetracycline-resistant%20%28TetR%29%20Escherichia%20coli%2C%20we%20demonstrate%20that%20gaining%20resistance%20is%20accompanied%20by%20loss%20of%20fitness%2C%20which%20is%20restored%20by%20compensatory%20physiological%20changes.%20We%20demonstrate%20that%20transcriptional%20regulators%20of%20the%20compensatory%20physiologic%20state%20are%20promising%20drug%20targets%20because%20their%20disruption%20increases%20the%20susceptibility%20of%20TetR%20E.%20coli%20to%20tetracycline.%20Thus%2C%20we%20describe%20a%20generalizable%20systems%20biology%20approach%20to%20identify%20new%20vulnerabilities%20within%20AMR%20strains%20to%20rationally%20accelerate%20the%20discovery%20of%20therapeutics%20that%20extend%20the%20life%20span%20of%20existing%20antibiotics.%22%2C%22date%22%3A%222023-02-23%22%2C%22language%22%3A%22eng%22%2C%22DOI%22%3A%2210.1128%5C%2Fmsystems.00904-22%22%2C%22ISSN%22%3A%222379-5077%22%2C%22url%22%3A%22%22%2C%22collections%22%3A%5B%5D%2C%22dateModified%22%3A%222023-06-15T19%3A44%3A10Z%22%7D%7D%2C%7B%22key%22%3A%224GCWEEGU%22%2C%22library%22%3A%7B%22id%22%3A4882752%7D%2C%22meta%22%3A%7B%22creatorSummary%22%3A%22Patra%20et%20al.%22%2C%22parsedDate%22%3A%222017-01-09%22%2C%22numChildren%22%3A0%7D%2C%22bib%22%3A%22%3Cdiv%20class%3D%5C%22csl-bib-body%5C%22%20style%3D%5C%22line-height%3A%201.35%3B%20padding-left%3A%201em%3B%20text-indent%3A-1em%3B%5C%22%3E%5Cn%20%20%3Cdiv%20class%3D%5C%22csl-entry%5C%22%3EPatra%2C%20Biranchi%2C%20Yoshiko%20Kon%2C%20Gitanjali%20Yadav%2C%20Anthony%20W.%20Sevold%2C%20Jesse%20P.%20Frumkin%2C%20Ravishankar%20R.%20Vallabhajosyula%2C%20Arend%20Hintze%2C%20et%20al.%20%26%23x201C%3BA%20Genome%20Wide%20Dosage%20Suppressor%20Network%20Reveals%20Genomic%20Robustness.%26%23x201D%3B%20%3Ci%3ENucleic%20Acids%20Research%3C%5C%2Fi%3E%2045%2C%20no.%201%20%28January%209%2C%202017%29%3A%20255%26%23x2013%3B70.%20%3Ca%20href%3D%27https%3A%5C%2F%5C%2Fdoi.org%5C%2F10.1093%5C%2Fnar%5C%2Fgkw1148%27%3Ehttps%3A%5C%2F%5C%2Fdoi.org%5C%2F10.1093%5C%2Fnar%5C%2Fgkw1148%3C%5C%2Fa%3E.%20%3Ca%20title%3D%27Cite%20in%20RIS%20Format%27%20class%3D%27zp-CiteRIS%27%20href%3D%27https%3A%5C%2F%5C%2Fbaliga.systemsbiology.net%5C%2Fwp-content%5C%2Fplugins%5C%2Fzotpress%5C%2Flib%5C%2Frequest%5C%2Frequest.cite.php%3Fapi_user_id%3D4882752%26amp%3Bitem_key%3D4GCWEEGU%27%3ECite%3C%5C%2Fa%3E%20%3C%5C%2Fdiv%3E%5Cn%3C%5C%2Fdiv%3E%22%2C%22data%22%3A%7B%22itemType%22%3A%22journalArticle%22%2C%22title%22%3A%22A%20genome%20wide%20dosage%20suppressor%20network%20reveals%20genomic%20robustness.%22%2C%22creators%22%3A%5B%7B%22creatorType%22%3A%22author%22%2C%22firstName%22%3A%22Biranchi%22%2C%22lastName%22%3A%22Patra%22%7D%2C%7B%22creatorType%22%3A%22author%22%2C%22firstName%22%3A%22Yoshiko%22%2C%22lastName%22%3A%22Kon%22%7D%2C%7B%22creatorType%22%3A%22author%22%2C%22firstName%22%3A%22Gitanjali%22%2C%22lastName%22%3A%22Yadav%22%7D%2C%7B%22creatorType%22%3A%22author%22%2C%22firstName%22%3A%22Anthony%20W.%22%2C%22lastName%22%3A%22Sevold%22%7D%2C%7B%22creatorType%22%3A%22author%22%2C%22firstName%22%3A%22Jesse%20P.%22%2C%22lastName%22%3A%22Frumkin%22%7D%2C%7B%22creatorType%22%3A%22author%22%2C%22firstName%22%3A%22Ravishankar%20R.%22%2C%22lastName%22%3A%22Vallabhajosyula%22%7D%2C%7B%22creatorType%22%3A%22author%22%2C%22firstName%22%3A%22Arend%22%2C%22lastName%22%3A%22Hintze%22%7D%2C%7B%22creatorType%22%3A%22author%22%2C%22firstName%22%3A%22Bjorn%22%2C%22lastName%22%3A%22Ostman%22%7D%2C%7B%22creatorType%22%3A%22author%22%2C%22firstName%22%3A%22Jory%22%2C%22lastName%22%3A%22Schossau%22%7D%2C%7B%22creatorType%22%3A%22author%22%2C%22firstName%22%3A%22Ashish%22%2C%22lastName%22%3A%22Bhan%22%7D%2C%7B%22creatorType%22%3A%22author%22%2C%22firstName%22%3A%22Bruz%22%2C%22lastName%22%3A%22Marzolf%22%7D%2C%7B%22creatorType%22%3A%22author%22%2C%22firstName%22%3A%22Jenna%20K.%22%2C%22lastName%22%3A%22Tamashiro%22%7D%2C%7B%22creatorType%22%3A%22author%22%2C%22firstName%22%3A%22Amardeep%22%2C%22lastName%22%3A%22Kaur%22%7D%2C%7B%22creatorType%22%3A%22author%22%2C%22firstName%22%3A%22Nitin%20S.%22%2C%22lastName%22%3A%22Baliga%22%7D%2C%7B%22creatorType%22%3A%22author%22%2C%22firstName%22%3A%22Elizabeth%20J.%22%2C%22lastName%22%3A%22Grayhack%22%7D%2C%7B%22creatorType%22%3A%22author%22%2C%22firstName%22%3A%22Christoph%22%2C%22lastName%22%3A%22Adami%22%7D%2C%7B%22creatorType%22%3A%22author%22%2C%22firstName%22%3A%22David%20J.%22%2C%22lastName%22%3A%22Galas%22%7D%2C%7B%22creatorType%22%3A%22author%22%2C%22firstName%22%3A%22Alpan%22%2C%22lastName%22%3A%22Raval%22%7D%2C%7B%22creatorType%22%3A%22author%22%2C%22firstName%22%3A%22Eric%20M.%22%2C%22lastName%22%3A%22Phizicky%22%7D%2C%7B%22creatorType%22%3A%22author%22%2C%22firstName%22%3A%22Animesh%22%2C%22lastName%22%3A%22Ray%22%7D%5D%2C%22abstractNote%22%3A%22Genomic%20robustness%20is%20the%20extent%20to%20which%20an%20organism%20has%20evolved%20to%20withstand%20the%20effects%20of%20deleterious%20mutations.%20We%20explored%20the%20extent%20of%20genomic%20robustness%20in%20budding%20yeast%20by%20genome%20wide%20dosage%20suppressor%20analysis%20of%2053%20conditional%20lethal%20mutations%20in%20cell%20division%20cycle%20and%20RNA%20synthesis%20related%20genes%2C%20revealing%20660%20suppressor%20interactions%20of%20which%20642%20are%20novel.%20This%20collection%20has%20several%20distinctive%20features%2C%20including%20high%20co-occurrence%20of%20mutant-suppressor%20pairs%20within%20protein%20modules%2C%20highly%20correlated%20functions%20between%20the%20pairs%20and%20higher%20diversity%20of%20functions%20among%20the%20co-suppressors%20than%20previously%20observed.%20Dosage%20suppression%20of%20essential%20genes%20encoding%20RNA%20polymerase%20subunits%20and%20chromosome%20cohesion%20complex%20suggests%20a%20surprising%20degree%20%20of%20functional%20plasticity%20of%20macromolecular%20complexes%2C%20and%20the%20existence%20of%20numerous%20degenerate%20pathways%20for%20circumventing%20the%20effects%20of%20potentially%20lethal%20%20mutations.%20These%20results%20imply%20that%20organisms%20and%20cancer%20are%20likely%20able%20to%20exploit%20the%20genomic%20robustness%20properties%2C%20due%20the%20persistence%20of%20cryptic%20gene%20and%20pathway%20functions%2C%20to%20generate%20variation%20and%20adapt%20to%20selective%20pressures.%22%2C%22date%22%3A%222017%20Jan%2009%22%2C%22language%22%3A%22eng%22%2C%22DOI%22%3A%2210.1093%5C%2Fnar%5C%2Fgkw1148%22%2C%22ISSN%22%3A%221362-4962%200305-1048%22%2C%22url%22%3A%22%22%2C%22collections%22%3A%5B%225FRVZCA6%22%5D%2C%22dateModified%22%3A%222022-12-07T08%3A39%3A15Z%22%7D%7D%2C%7B%22key%22%3A%22NBUPSJRB%22%2C%22library%22%3A%7B%22id%22%3A4882752%7D%2C%22meta%22%3A%7B%22creatorSummary%22%3A%22Robinson%20et%20al.%22%2C%22parsedDate%22%3A%222011-04%22%2C%22numChildren%22%3A0%7D%2C%22bib%22%3A%22%3Cdiv%20class%3D%5C%22csl-bib-body%5C%22%20style%3D%5C%22line-height%3A%201.35%3B%20padding-left%3A%201em%3B%20text-indent%3A-1em%3B%5C%22%3E%5Cn%20%20%3Cdiv%20class%3D%5C%22csl-entry%5C%22%3ERobinson%2C%20Courtney%20K.%2C%20Kim%20Webb%2C%20Amardeep%20Kaur%2C%20Pawel%20Jaruga%2C%20Miral%20Dizdaroglu%2C%20Nitin%20S.%20Baliga%2C%20Allen%20Place%2C%20and%20Jocelyne%20Diruggiero.%20%26%23x201C%3BA%20Major%20Role%20for%20Nonenzymatic%20Antioxidant%20Processes%20in%20the%20Radioresistance%20of%20Halobacterium%20Salinarum.%26%23x201D%3B%20%3Ci%3EJournal%20of%20Bacteriology%3C%5C%2Fi%3E%20193%2C%20no.%207%20%28April%202011%29%3A%201653%26%23x2013%3B62.%20%3Ca%20href%3D%27https%3A%5C%2F%5C%2Fdoi.org%5C%2F10.1128%5C%2FJB.01310-10%27%3Ehttps%3A%5C%2F%5C%2Fdoi.org%5C%2F10.1128%5C%2FJB.01310-10%3C%5C%2Fa%3E.%20%3Ca%20title%3D%27Cite%20in%20RIS%20Format%27%20class%3D%27zp-CiteRIS%27%20href%3D%27https%3A%5C%2F%5C%2Fbaliga.systemsbiology.net%5C%2Fwp-content%5C%2Fplugins%5C%2Fzotpress%5C%2Flib%5C%2Frequest%5C%2Frequest.cite.php%3Fapi_user_id%3D4882752%26amp%3Bitem_key%3DNBUPSJRB%27%3ECite%3C%5C%2Fa%3E%20%3C%5C%2Fdiv%3E%5Cn%3C%5C%2Fdiv%3E%22%2C%22data%22%3A%7B%22itemType%22%3A%22journalArticle%22%2C%22title%22%3A%22A%20major%20role%20for%20nonenzymatic%20antioxidant%20processes%20in%20the%20radioresistance%20of%20Halobacterium%20salinarum.%22%2C%22creators%22%3A%5B%7B%22creatorType%22%3A%22author%22%2C%22firstName%22%3A%22Courtney%20K.%22%2C%22lastName%22%3A%22Robinson%22%7D%2C%7B%22creatorType%22%3A%22author%22%2C%22firstName%22%3A%22Kim%22%2C%22lastName%22%3A%22Webb%22%7D%2C%7B%22creatorType%22%3A%22author%22%2C%22firstName%22%3A%22Amardeep%22%2C%22lastName%22%3A%22Kaur%22%7D%2C%7B%22creatorType%22%3A%22author%22%2C%22firstName%22%3A%22Pawel%22%2C%22lastName%22%3A%22Jaruga%22%7D%2C%7B%22creatorType%22%3A%22author%22%2C%22firstName%22%3A%22Miral%22%2C%22lastName%22%3A%22Dizdaroglu%22%7D%2C%7B%22creatorType%22%3A%22author%22%2C%22firstName%22%3A%22Nitin%20S.%22%2C%22lastName%22%3A%22Baliga%22%7D%2C%7B%22creatorType%22%3A%22author%22%2C%22firstName%22%3A%22Allen%22%2C%22lastName%22%3A%22Place%22%7D%2C%7B%22creatorType%22%3A%22author%22%2C%22firstName%22%3A%22Jocelyne%22%2C%22lastName%22%3A%22Diruggiero%22%7D%5D%2C%22abstractNote%22%3A%22Oxidative%20stress%20occurs%20when%20the%20generation%20of%20reactive%20oxygen%20species%20%28ROS%29%20exceeds%20the%20capacity%20of%20the%20cell%27s%20endogenous%20systems%20to%20neutralize%20them.%20Our%20analyses%20of%20the%20cellular%20damage%20and%20oxidative%20stress%20responses%20of%20the%20archaeon%20Halobacterium%20salinarum%20exposed%20to%20ionizing%20radiation%20%28IR%29%20revealed%20a%20critical%20role%20played%20by%20nonenzymatic%20antioxidant%20processes%20in%20the%20resistance%20of%20H.%20salinarum%20to%20IR.%20ROS-scavenging%20enzymes%20were%20essential%20for%20resistance%20to%20chemical%20oxidants%2C%20yet%20those%20enzymes%20were%20not%20necessary%20for%20H.%20salinarum%27s%20resistance%20to%20IR.%20We%20found%20that%20protein-free%20cell%20extracts%20from%20H.%20salinarum%20provided%20a%20high%20level%20of%20protection%20for%20protein%20activity%20against%20IR%20in%20vitro%20but%20did%20not%20protect%20%20DNA%20significantly.%20Compared%20with%20cell%20extracts%20of%20radiation-sensitive%20bacteria%2C%20H.%20salinarum%20extracts%20were%20enriched%20in%20manganese%2C%20amino%20acids%2C%20and%20peptides%2C%20supporting%20an%20essential%20role%20in%20ROS%20scavenging%20for%20those%20small%20molecules%20in%20vivo.%20With%20regard%20to%20chemical%20oxidants%2C%20we%20showed%20that%20the%20damage%20caused%20by%20gamma%20irradiation%20was%20mechanistically%20different%20than%20that%20produced%20by%20hydrogen%20peroxide%20or%20by%20the%20superoxide-generating%20redox-cycling%20drug%20paraquat.%20The%20data%20presented%20support%20the%20idea%20that%20IR%20resistance%20is%20most%20likely%20achieved%20by%20a%20%5C%22metabolic%20route%2C%5C%22%20with%20a%20combination%20of%20tightly%20coordinated%20physiological%20processes.%22%2C%22date%22%3A%222011%20Apr%22%2C%22language%22%3A%22eng%22%2C%22DOI%22%3A%2210.1128%5C%2FJB.01310-10%22%2C%22ISSN%22%3A%221098-5530%200021-9193%22%2C%22url%22%3A%22%22%2C%22collections%22%3A%5B%225FRVZCA6%22%5D%2C%22dateModified%22%3A%222022-12-07T08%3A39%3A14Z%22%7D%7D%2C%7B%22key%22%3A%22VCMJTF6E%22%2C%22library%22%3A%7B%22id%22%3A4882752%7D%2C%22meta%22%3A%7B%22creatorSummary%22%3A%22Bonneau%20et%20al.%22%2C%22parsedDate%22%3A%222007-12-28%22%2C%22numChildren%22%3A0%7D%2C%22bib%22%3A%22%3Cdiv%20class%3D%5C%22csl-bib-body%5C%22%20style%3D%5C%22line-height%3A%201.35%3B%20padding-left%3A%201em%3B%20text-indent%3A-1em%3B%5C%22%3E%5Cn%20%20%3Cdiv%20class%3D%5C%22csl-entry%5C%22%3EBonneau%2C%20Richard%2C%20Marc%20T.%20Facciotti%2C%20David%20J.%20Reiss%2C%20Amy%20K.%20Schmid%2C%20Min%20Pan%2C%20Amardeep%20Kaur%2C%20Vesteinn%20Thorsson%2C%20et%20al.%20%26%23x201C%3BA%20Predictive%20Model%20for%20Transcriptional%20Control%20of%20Physiology%20in%20a%20Free%20Living%20Cell.%26%23x201D%3B%20%3Ci%3ECell%3C%5C%2Fi%3E%20131%2C%20no.%207%20%28December%2028%2C%202007%29%3A%201354%26%23x2013%3B65.%20%3Ca%20href%3D%27https%3A%5C%2F%5C%2Fdoi.org%5C%2F10.1016%5C%2Fj.cell.2007.10.053%27%3Ehttps%3A%5C%2F%5C%2Fdoi.org%5C%2F10.1016%5C%2Fj.cell.2007.10.053%3C%5C%2Fa%3E.%20%3Ca%20title%3D%27Cite%20in%20RIS%20Format%27%20class%3D%27zp-CiteRIS%27%20href%3D%27https%3A%5C%2F%5C%2Fbaliga.systemsbiology.net%5C%2Fwp-content%5C%2Fplugins%5C%2Fzotpress%5C%2Flib%5C%2Frequest%5C%2Frequest.cite.php%3Fapi_user_id%3D4882752%26amp%3Bitem_key%3DVCMJTF6E%27%3ECite%3C%5C%2Fa%3E%20%3C%5C%2Fdiv%3E%5Cn%3C%5C%2Fdiv%3E%22%2C%22data%22%3A%7B%22itemType%22%3A%22journalArticle%22%2C%22title%22%3A%22A%20predictive%20model%20for%20transcriptional%20control%20of%20physiology%20in%20a%20free%20living%20cell.%22%2C%22creators%22%3A%5B%7B%22creatorType%22%3A%22author%22%2C%22firstName%22%3A%22Richard%22%2C%22lastName%22%3A%22Bonneau%22%7D%2C%7B%22creatorType%22%3A%22author%22%2C%22firstName%22%3A%22Marc%20T.%22%2C%22lastName%22%3A%22Facciotti%22%7D%2C%7B%22creatorType%22%3A%22author%22%2C%22firstName%22%3A%22David%20J.%22%2C%22lastName%22%3A%22Reiss%22%7D%2C%7B%22creatorType%22%3A%22author%22%2C%22firstName%22%3A%22Amy%20K.%22%2C%22lastName%22%3A%22Schmid%22%7D%2C%7B%22creatorType%22%3A%22author%22%2C%22firstName%22%3A%22Min%22%2C%22lastName%22%3A%22Pan%22%7D%2C%7B%22creatorType%22%3A%22author%22%2C%22firstName%22%3A%22Amardeep%22%2C%22lastName%22%3A%22Kaur%22%7D%2C%7B%22creatorType%22%3A%22author%22%2C%22firstName%22%3A%22Vesteinn%22%2C%22lastName%22%3A%22Thorsson%22%7D%2C%7B%22creatorType%22%3A%22author%22%2C%22firstName%22%3A%22Paul%22%2C%22lastName%22%3A%22Shannon%22%7D%2C%7B%22creatorType%22%3A%22author%22%2C%22firstName%22%3A%22Michael%20H.%22%2C%22lastName%22%3A%22Johnson%22%7D%2C%7B%22creatorType%22%3A%22author%22%2C%22firstName%22%3A%22J.%20Christopher%22%2C%22lastName%22%3A%22Bare%22%7D%2C%7B%22creatorType%22%3A%22author%22%2C%22firstName%22%3A%22William%22%2C%22lastName%22%3A%22Longabaugh%22%7D%2C%7B%22creatorType%22%3A%22author%22%2C%22firstName%22%3A%22Madhavi%22%2C%22lastName%22%3A%22Vuthoori%22%7D%2C%7B%22creatorType%22%3A%22author%22%2C%22firstName%22%3A%22Kenia%22%2C%22lastName%22%3A%22Whitehead%22%7D%2C%7B%22creatorType%22%3A%22author%22%2C%22firstName%22%3A%22Aviv%22%2C%22lastName%22%3A%22Madar%22%7D%2C%7B%22creatorType%22%3A%22author%22%2C%22firstName%22%3A%22Lena%22%2C%22lastName%22%3A%22Suzuki%22%7D%2C%7B%22creatorType%22%3A%22author%22%2C%22firstName%22%3A%22Tetsuya%22%2C%22lastName%22%3A%22Mori%22%7D%2C%7B%22creatorType%22%3A%22author%22%2C%22firstName%22%3A%22Dong-Eun%22%2C%22lastName%22%3A%22Chang%22%7D%2C%7B%22creatorType%22%3A%22author%22%2C%22firstName%22%3A%22Jocelyne%22%2C%22lastName%22%3A%22Diruggiero%22%7D%2C%7B%22creatorType%22%3A%22author%22%2C%22firstName%22%3A%22Carl%20H.%22%2C%22lastName%22%3A%22Johnson%22%7D%2C%7B%22creatorType%22%3A%22author%22%2C%22firstName%22%3A%22Leroy%22%2C%22lastName%22%3A%22Hood%22%7D%2C%7B%22creatorType%22%3A%22author%22%2C%22firstName%22%3A%22Nitin%20S.%22%2C%22lastName%22%3A%22Baliga%22%7D%5D%2C%22abstractNote%22%3A%22The%20environment%20significantly%20influences%20the%20dynamic%20expression%20and%20assembly%20of%20all%20components%20encoded%20in%20the%20genome%20of%20an%20organism%20into%20functional%20biological%20networks.%20We%20have%20constructed%20a%20model%20for%20this%20process%20in%20Halobacterium%20salinarum%22%2C%22date%22%3A%222007%20Dec%2028%22%2C%22language%22%3A%22eng%22%2C%22DOI%22%3A%2210.1016%5C%2Fj.cell.2007.10.053%22%2C%22ISSN%22%3A%220092-8674%200092-8674%22%2C%22url%22%3A%22%22%2C%22collections%22%3A%5B%225FRVZCA6%22%5D%2C%22dateModified%22%3A%222022-12-07T08%3A39%3A13Z%22%7D%7D%2C%7B%22key%22%3A%22WNE5K9ZQ%22%2C%22library%22%3A%7B%22id%22%3A4882752%7D%2C%22meta%22%3A%7B%22creatorSummary%22%3A%22Brooks%20et%20al.%22%2C%22parsedDate%22%3A%222014%22%2C%22numChildren%22%3A0%7D%2C%22bib%22%3A%22%3Cdiv%20class%3D%5C%22csl-bib-body%5C%22%20style%3D%5C%22line-height%3A%201.35%3B%20padding-left%3A%201em%3B%20text-indent%3A-1em%3B%5C%22%3E%5Cn%20%20%3Cdiv%20class%3D%5C%22csl-entry%5C%22%3EBrooks%2C%20Aaron%20N.%2C%20David%20J.%20Reiss%2C%20Antoine%20Allard%2C%20Wei-Ju%20Wu%2C%20Diego%20M.%20Salvanha%2C%20Christopher%20L.%20Plaisier%2C%20Sriram%20Chandrasekaran%2C%20Min%20Pan%2C%20Amardeep%20Kaur%2C%20and%20Nitin%20S.%20Baliga.%20%26%23x201C%3BA%20System-Level%20Model%20for%20the%20Microbial%20Regulatory%20Genome.%26%23x201D%3B%20%3Ci%3EMolecular%20Systems%20Biology%3C%5C%2Fi%3E%2010%20%282014%29%3A%20740.%20%3Ca%20title%3D%27Cite%20in%20RIS%20Format%27%20class%3D%27zp-CiteRIS%27%20href%3D%27https%3A%5C%2F%5C%2Fbaliga.systemsbiology.net%5C%2Fwp-content%5C%2Fplugins%5C%2Fzotpress%5C%2Flib%5C%2Frequest%5C%2Frequest.cite.php%3Fapi_user_id%3D4882752%26amp%3Bitem_key%3DWNE5K9ZQ%27%3ECite%3C%5C%2Fa%3E%20%3C%5C%2Fdiv%3E%5Cn%3C%5C%2Fdiv%3E%22%2C%22data%22%3A%7B%22itemType%22%3A%22journalArticle%22%2C%22title%22%3A%22A%20system-level%20model%20for%20the%20microbial%20regulatory%20genome.%22%2C%22creators%22%3A%5B%7B%22creatorType%22%3A%22author%22%2C%22firstName%22%3A%22Aaron%20N.%22%2C%22lastName%22%3A%22Brooks%22%7D%2C%7B%22creatorType%22%3A%22author%22%2C%22firstName%22%3A%22David%20J.%22%2C%22lastName%22%3A%22Reiss%22%7D%2C%7B%22creatorType%22%3A%22author%22%2C%22firstName%22%3A%22Antoine%22%2C%22lastName%22%3A%22Allard%22%7D%2C%7B%22creatorType%22%3A%22author%22%2C%22firstName%22%3A%22Wei-Ju%22%2C%22lastName%22%3A%22Wu%22%7D%2C%7B%22creatorType%22%3A%22author%22%2C%22firstName%22%3A%22Diego%20M.%22%2C%22lastName%22%3A%22Salvanha%22%7D%2C%7B%22creatorType%22%3A%22author%22%2C%22firstName%22%3A%22Christopher%20L.%22%2C%22lastName%22%3A%22Plaisier%22%7D%2C%7B%22creatorType%22%3A%22author%22%2C%22firstName%22%3A%22Sriram%22%2C%22lastName%22%3A%22Chandrasekaran%22%7D%2C%7B%22creatorType%22%3A%22author%22%2C%22firstName%22%3A%22Min%22%2C%22lastName%22%3A%22Pan%22%7D%2C%7B%22creatorType%22%3A%22author%22%2C%22firstName%22%3A%22Amardeep%22%2C%22lastName%22%3A%22Kaur%22%7D%2C%7B%22creatorType%22%3A%22author%22%2C%22firstName%22%3A%22Nitin%20S.%22%2C%22lastName%22%3A%22Baliga%22%7D%5D%2C%22abstractNote%22%3A%22Microbes%20can%20tailor%20transcriptional%20responses%20to%20diverse%20environmental%20challenges%20despite%20having%20streamlined%20genomes%20and%20a%20limited%20number%20of%20regulators.%20Here%2C%20we%20present%20data-driven%20models%20that%20capture%20the%20dynamic%20interplay%20of%20the%20environment%20%20and%20genome-encoded%20regulatory%20programs%20of%20two%20types%20of%20prokaryotes%3A%20Escherichia%20coli%20%28a%20bacterium%29%20and%20Halobacterium%20salinarum%20%28an%20archaeon%29.%20The%20models%20reveal%20how%20the%20genome-wide%20distributions%20of%20cis-acting%20gene%20regulatory%20elements%20and%20the%20%20conditional%20influences%20of%20transcription%20factors%20at%20each%20of%20those%20elements%20encode%20%20programs%20for%20eliciting%20a%20wide%20array%20of%20environment-specific%20responses.%20We%20demonstrate%20how%20these%20programs%20partition%20transcriptional%20regulation%20of%20genes%20within%20regulons%20and%20operons%20to%20re-organize%20gene-gene%20functional%20associations%20in%20each%20environment.%20The%20models%20capture%20fitness-relevant%20co-regulation%20by%20different%20%20transcriptional%20control%20mechanisms%20acting%20across%20the%20entire%20genome%2C%20to%20define%20a%20generalized%2C%20system-level%20organizing%20principle%20for%20prokaryotic%20gene%20regulatory%20networks%20that%20goes%20well%20beyond%20existing%20paradigms%20of%20gene%20regulation.%20An%20online%20resource%20%28http%3A%5C%2F%5C%2Fegrin2.systemsbiology.net%29%20has%20been%20developed%20to%20facilitate%20multiscale%20exploration%20of%20conditional%20gene%20regulation%20in%20the%20two%20prokaryotes.%22%2C%22date%22%3A%222014%22%2C%22language%22%3A%22eng%22%2C%22DOI%22%3A%22%22%2C%22ISSN%22%3A%221744-4292%201744-4292%22%2C%22url%22%3A%22%22%2C%22collections%22%3A%5B%225FRVZCA6%22%5D%2C%22dateModified%22%3A%222022-12-07T08%3A39%3A11Z%22%7D%7D%2C%7B%22key%22%3A%22SJTZD2BI%22%2C%22library%22%3A%7B%22id%22%3A4882752%7D%2C%22meta%22%3A%7B%22creatorSummary%22%3A%22Kaur%20et%20al.%22%2C%22parsedDate%22%3A%222006-07%22%2C%22numChildren%22%3A0%7D%2C%22bib%22%3A%22%3Cdiv%20class%3D%5C%22csl-bib-body%5C%22%20style%3D%5C%22line-height%3A%201.35%3B%20padding-left%3A%201em%3B%20text-indent%3A-1em%3B%5C%22%3E%5Cn%20%20%3Cdiv%20class%3D%5C%22csl-entry%5C%22%3EKaur%2C%20Amardeep%2C%20Min%20Pan%2C%20Megan%20Meislin%2C%20Marc%20T.%20Facciotti%2C%20Raafat%20El-Gewely%2C%20and%20Nitin%20S.%20Baliga.%20%26%23x201C%3BA%20Systems%20View%20of%20Haloarchaeal%20Strategies%20to%20Withstand%20Stress%20from%20Transition%20Metals.%26%23x201D%3B%20%3Ci%3EGenome%20Research%3C%5C%2Fi%3E%2016%2C%20no.%207%20%28July%202006%29%3A%20841%26%23x2013%3B54.%20%3Ca%20href%3D%27https%3A%5C%2F%5C%2Fdoi.org%5C%2F10.1101%5C%2Fgr.5189606%27%3Ehttps%3A%5C%2F%5C%2Fdoi.org%5C%2F10.1101%5C%2Fgr.5189606%3C%5C%2Fa%3E.%20%3Ca%20title%3D%27Cite%20in%20RIS%20Format%27%20class%3D%27zp-CiteRIS%27%20href%3D%27https%3A%5C%2F%5C%2Fbaliga.systemsbiology.net%5C%2Fwp-content%5C%2Fplugins%5C%2Fzotpress%5C%2Flib%5C%2Frequest%5C%2Frequest.cite.php%3Fapi_user_id%3D4882752%26amp%3Bitem_key%3DSJTZD2BI%27%3ECite%3C%5C%2Fa%3E%20%3C%5C%2Fdiv%3E%5Cn%3C%5C%2Fdiv%3E%22%2C%22data%22%3A%7B%22itemType%22%3A%22journalArticle%22%2C%22title%22%3A%22A%20systems%20view%20of%20haloarchaeal%20strategies%20to%20withstand%20stress%20from%20transition%20metals.%22%2C%22creators%22%3A%5B%7B%22creatorType%22%3A%22author%22%2C%22firstName%22%3A%22Amardeep%22%2C%22lastName%22%3A%22Kaur%22%7D%2C%7B%22creatorType%22%3A%22author%22%2C%22firstName%22%3A%22Min%22%2C%22lastName%22%3A%22Pan%22%7D%2C%7B%22creatorType%22%3A%22author%22%2C%22firstName%22%3A%22Megan%22%2C%22lastName%22%3A%22Meislin%22%7D%2C%7B%22creatorType%22%3A%22author%22%2C%22firstName%22%3A%22Marc%20T.%22%2C%22lastName%22%3A%22Facciotti%22%7D%2C%7B%22creatorType%22%3A%22author%22%2C%22firstName%22%3A%22Raafat%22%2C%22lastName%22%3A%22El-Gewely%22%7D%2C%7B%22creatorType%22%3A%22author%22%2C%22firstName%22%3A%22Nitin%20S.%22%2C%22lastName%22%3A%22Baliga%22%7D%5D%2C%22abstractNote%22%3A%22Given%20that%20transition%20metals%20are%20essential%20cofactors%20in%20central%20biological%20processes%2C%20misallocation%20of%20the%20wrong%20metal%20ion%20to%20a%20metalloprotein%20can%20have%20resounding%20and%20often%20detrimental%20effects%20on%20diverse%20aspects%20of%20cellular%20physiology.%20Therefore%2C%20in%20an%20attempt%20to%20characterize%20unique%20and%20shared%20responses%20%20to%20chemically%20similar%20metals%2C%20we%20have%20reconstructed%20physiological%20behaviors%20of%20Halobacterium%20NRC-1%2C%20an%20archaeal%20halophile%2C%20in%20sublethal%20levels%20of%20Mn%28II%29%2C%20Fe%28II%29%2C%20Co%28II%29%2C%20Ni%28II%29%2C%20Cu%28II%29%2C%20and%20Zn%28II%29.%20Over%2020%25%20of%20all%20genes%20responded%20transiently%20within%20minutes%20of%20exposure%20to%20Fe%28II%29%2C%20perhaps%20reflecting%20immediate%20large-scale%20physiological%20adjustments%20to%20maintain%20homeostasis.%20At%20steady%20state%2C%20each%20transition%20metal%20induced%20growth%20arrest%2C%20attempts%20to%20minimize%20oxidative%20stress%2C%20toxic%20ion%20scavenging%2C%20increased%20protein%20turnover%20and%20DNA%20repair%2C%20and%20modulation%20of%20active%20ion%20transport.%20While%20several%20of%20these%20constitute%20generalized%20stress%20responses%2C%20up-regulation%20of%20active%20efflux%20of%20Co%28II%29%2C%20Ni%28II%29%2C%20Cu%28II%29%2C%20and%20Zn%28II%29%2C%20down-regulation%20of%20Mn%28II%29%20uptake%20and%20up-regulation%20of%20Fe%28II%29%20chelation%2C%20confer%20resistance%20to%20the%20respective%20metals.%20We%20have%20synthesized%20all%20of%20these%20discoveries%20into%20a%20unified%20systems-level%20model%20to%20provide%20an%20integrated%20perspective%20of%20responses%20to%20six%20transition%20metals%20with%20emphasis%20on%20experimentally%20verified%20regulatory%20mechanisms.%20Finally%2C%20through%20comparisons%20across%20global%20transcriptional%20responses%20to%20different%20metals%2C%20we%20provide%20insights%20into%20putative%20%20in%20vivo%20metal%20selectivity%20of%20metalloregulatory%20proteins%20and%20demonstrate%20that%20a%20systems%20approach%20can%20help%20rapidly%20unravel%20novel%20metabolic%20potential%20and%20regulatory%20programs%20of%20poorly%20studied%20organisms.%22%2C%22date%22%3A%222006%20Jul%22%2C%22language%22%3A%22eng%22%2C%22DOI%22%3A%2210.1101%5C%2Fgr.5189606%22%2C%22ISSN%22%3A%221088-9051%201088-9051%22%2C%22url%22%3A%22%22%2C%22collections%22%3A%5B%225FRVZCA6%22%5D%2C%22dateModified%22%3A%222022-12-07T08%3A39%3A10Z%22%7D%7D%2C%7B%22key%22%3A%22XQWSKA5W%22%2C%22library%22%3A%7B%22id%22%3A4882752%7D%2C%22meta%22%3A%7B%22creatorSummary%22%3A%22Lopez%20Garcia%20de%20Lomana%20et%20al.%22%2C%22parsedDate%22%3A%222017-06%22%2C%22numChildren%22%3A0%7D%2C%22bib%22%3A%22%3Cdiv%20class%3D%5C%22csl-bib-body%5C%22%20style%3D%5C%22line-height%3A%201.35%3B%20padding-left%3A%201em%3B%20text-indent%3A-1em%3B%5C%22%3E%5Cn%20%20%3Cdiv%20class%3D%5C%22csl-entry%5C%22%3ELopez%20Garcia%20de%20Lomana%2C%20Adrian%2C%20Amardeep%20Kaur%2C%20Serdar%20Turkarslan%2C%20Karlyn%20Beer%2C%20Fred%20Mast%2C%20Jennifer%20Smith%2C%20John%20Aitchison%2C%20and%20Nitin%20Baliga.%20%26%23x201C%3BAdaptive%20Prediction%20Emerges%20Over%20Short%20Evolutionary%20Time%20Scales.%26%23x201D%3B%20%3Ci%3EGenome%20Biology%20and%20Evolution%3C%5C%2Fi%3E%20in%20press%20%28June%202017%29.%20%3Ca%20title%3D%27Cite%20in%20RIS%20Format%27%20class%3D%27zp-CiteRIS%27%20href%3D%27https%3A%5C%2F%5C%2Fbaliga.systemsbiology.net%5C%2Fwp-content%5C%2Fplugins%5C%2Fzotpress%5C%2Flib%5C%2Frequest%5C%2Frequest.cite.php%3Fapi_user_id%3D4882752%26amp%3Bitem_key%3DXQWSKA5W%27%3ECite%3C%5C%2Fa%3E%20%3C%5C%2Fdiv%3E%5Cn%3C%5C%2Fdiv%3E%22%2C%22data%22%3A%7B%22itemType%22%3A%22journalArticle%22%2C%22title%22%3A%22Adaptive%20Prediction%20Emerges%20Over%20Short%20Evolutionary%20Time%20Scales%22%2C%22creators%22%3A%5B%7B%22creatorType%22%3A%22author%22%2C%22firstName%22%3A%22Adrian%22%2C%22lastName%22%3A%22Lopez%20Garcia%20de%20Lomana%22%7D%2C%7B%22creatorType%22%3A%22author%22%2C%22firstName%22%3A%22Amardeep%22%2C%22lastName%22%3A%22Kaur%22%7D%2C%7B%22creatorType%22%3A%22author%22%2C%22firstName%22%3A%22Serdar%22%2C%22lastName%22%3A%22Turkarslan%22%7D%2C%7B%22creatorType%22%3A%22author%22%2C%22firstName%22%3A%22Karlyn%22%2C%22lastName%22%3A%22Beer%22%7D%2C%7B%22creatorType%22%3A%22author%22%2C%22firstName%22%3A%22Fred%22%2C%22lastName%22%3A%22Mast%22%7D%2C%7B%22creatorType%22%3A%22author%22%2C%22firstName%22%3A%22Jennifer%22%2C%22lastName%22%3A%22Smith%22%7D%2C%7B%22creatorType%22%3A%22author%22%2C%22firstName%22%3A%22John%22%2C%22lastName%22%3A%22Aitchison%22%7D%2C%7B%22creatorType%22%3A%22author%22%2C%22firstName%22%3A%22Nitin%22%2C%22lastName%22%3A%22Baliga%22%7D%5D%2C%22abstractNote%22%3A%22%22%2C%22date%22%3A%22June%202017%22%2C%22language%22%3A%22%22%2C%22DOI%22%3A%22%22%2C%22ISSN%22%3A%22%22%2C%22url%22%3A%22%22%2C%22collections%22%3A%5B%225FRVZCA6%22%5D%2C%22dateModified%22%3A%222022-12-07T08%3A39%3A09Z%22%7D%7D%2C%7B%22key%22%3A%22HJ46EAPA%22%2C%22library%22%3A%7B%22id%22%3A4882752%7D%2C%22meta%22%3A%7B%22creatorSummary%22%3A%22Whitehead%20et%20al.%22%2C%22parsedDate%22%3A%222006%22%2C%22numChildren%22%3A0%7D%2C%22bib%22%3A%22%3Cdiv%20class%3D%5C%22csl-bib-body%5C%22%20style%3D%5C%22line-height%3A%201.35%3B%20padding-left%3A%201em%3B%20text-indent%3A-1em%3B%5C%22%3E%5Cn%20%20%3Cdiv%20class%3D%5C%22csl-entry%5C%22%3EWhitehead%2C%20Kenia%2C%20Adrienne%20Kish%2C%20Min%20Pan%2C%20Amardeep%20Kaur%2C%20David%20J.%20Reiss%2C%20Nichole%20King%2C%20Laura%20Hohmann%2C%20Jocelyne%20DiRuggiero%2C%20and%20Nitin%20S.%20Baliga.%20%26%23x201C%3BAn%20Integrated%20Systems%20Approach%20for%20Understanding%20Cellular%20Responses%20to%20Gamma%20Radiation.%26%23x201D%3B%20%3Ci%3EMolecular%20Systems%20Biology%3C%5C%2Fi%3E%202%20%282006%29%3A%2047.%20%3Ca%20href%3D%27https%3A%5C%2F%5C%2Fdoi.org%5C%2F10.1038%5C%2Fmsb4100091%27%3Ehttps%3A%5C%2F%5C%2Fdoi.org%5C%2F10.1038%5C%2Fmsb4100091%3C%5C%2Fa%3E.%20%3Ca%20title%3D%27Cite%20in%20RIS%20Format%27%20class%3D%27zp-CiteRIS%27%20href%3D%27https%3A%5C%2F%5C%2Fbaliga.systemsbiology.net%5C%2Fwp-content%5C%2Fplugins%5C%2Fzotpress%5C%2Flib%5C%2Frequest%5C%2Frequest.cite.php%3Fapi_user_id%3D4882752%26amp%3Bitem_key%3DHJ46EAPA%27%3ECite%3C%5C%2Fa%3E%20%3C%5C%2Fdiv%3E%5Cn%3C%5C%2Fdiv%3E%22%2C%22data%22%3A%7B%22itemType%22%3A%22journalArticle%22%2C%22title%22%3A%22An%20integrated%20systems%20approach%20for%20understanding%20cellular%20responses%20to%20gamma%20radiation.%22%2C%22creators%22%3A%5B%7B%22creatorType%22%3A%22author%22%2C%22firstName%22%3A%22Kenia%22%2C%22lastName%22%3A%22Whitehead%22%7D%2C%7B%22creatorType%22%3A%22author%22%2C%22firstName%22%3A%22Adrienne%22%2C%22lastName%22%3A%22Kish%22%7D%2C%7B%22creatorType%22%3A%22author%22%2C%22firstName%22%3A%22Min%22%2C%22lastName%22%3A%22Pan%22%7D%2C%7B%22creatorType%22%3A%22author%22%2C%22firstName%22%3A%22Amardeep%22%2C%22lastName%22%3A%22Kaur%22%7D%2C%7B%22creatorType%22%3A%22author%22%2C%22firstName%22%3A%22David%20J.%22%2C%22lastName%22%3A%22Reiss%22%7D%2C%7B%22creatorType%22%3A%22author%22%2C%22firstName%22%3A%22Nichole%22%2C%22lastName%22%3A%22King%22%7D%2C%7B%22creatorType%22%3A%22author%22%2C%22firstName%22%3A%22Laura%22%2C%22lastName%22%3A%22Hohmann%22%7D%2C%7B%22creatorType%22%3A%22author%22%2C%22firstName%22%3A%22Jocelyne%22%2C%22lastName%22%3A%22DiRuggiero%22%7D%2C%7B%22creatorType%22%3A%22author%22%2C%22firstName%22%3A%22Nitin%20S.%22%2C%22lastName%22%3A%22Baliga%22%7D%5D%2C%22abstractNote%22%3A%22Cellular%20response%20to%20stress%20entails%20complex%20mRNA%20and%20protein%20abundance%20changes%2C%20which%20translate%20into%20physiological%20adjustments%20to%20maintain%20homeostasis%20as%20well%20as%20to%20repair%20and%20minimize%20damage%20to%20cellular%20components.%20We%20have%20characterized%20the%20response%20of%20the%20halophilic%20archaeon%20Halobacterium%20salinarum%20NRC-1%20to%20%2860%29Co%20ionizing%20gamma%20radiation%20in%20an%20effort%20to%20understand%20the%20correlation%20between%20genetic%20information%20processing%20and%20physiological%20change.%20The%20physiological%20response%20model%20we%20have%20constructed%20is%20based%20on%20integrated%20analysis%20of%20temporal%20changes%20in%20global%20mRNA%20and%20protein%20abundance%20along%20with%20protein-DNA%20interactions%20%20and%20evolutionarily%20conserved%20functional%20associations.%20This%20systems%20view%20reveals%20cooperation%20among%20several%20cellular%20processes%20including%20DNA%20repair%2C%20increased%20protein%20turnover%2C%20apparent%20shifts%20in%20metabolism%20to%20favor%20nucleotide%20biosynthesis%20%20and%20an%20overall%20effort%20to%20repair%20oxidative%20damage.%20Further%2C%20we%20demonstrate%20the%20importance%20of%20time%20dimension%20while%20correlating%20mRNA%20and%20protein%20levels%20and%20suggest%20that%20steady-state%20comparisons%20may%20be%20misleading%20while%20assessing%20dynamics%20%20of%20genetic%20information%20processing%20across%20transcription%20and%20translation.%22%2C%22date%22%3A%222006%22%2C%22language%22%3A%22eng%22%2C%22DOI%22%3A%2210.1038%5C%2Fmsb4100091%22%2C%22ISSN%22%3A%221744-4292%201744-4292%22%2C%22url%22%3A%22%22%2C%22collections%22%3A%5B%225FRVZCA6%22%5D%2C%22dateModified%22%3A%222022-12-07T08%3A39%3A08Z%22%7D%7D%2C%7B%22key%22%3A%22P9ESCQRI%22%2C%22library%22%3A%7B%22id%22%3A4882752%7D%2C%22meta%22%3A%7B%22creatorSummary%22%3A%22Kaur%20et%20al.%22%2C%22parsedDate%22%3A%222010-07%22%2C%22numChildren%22%3A0%7D%2C%22bib%22%3A%22%3Cdiv%20class%3D%5C%22csl-bib-body%5C%22%20style%3D%5C%22line-height%3A%201.35%3B%20padding-left%3A%201em%3B%20text-indent%3A-1em%3B%5C%22%3E%5Cn%20%20%3Cdiv%20class%3D%5C%22csl-entry%5C%22%3EKaur%2C%20Amardeep%2C%20Phu%20T.%20Van%2C%20Courtney%20R.%20Busch%2C%20Courtney%20K.%20Robinson%2C%20Min%20Pan%2C%20Wyming%20Lee%20Pang%2C%20David%20J.%20Reiss%2C%20Jocelyne%20DiRuggiero%2C%20and%20Nitin%20S.%20Baliga.%20%26%23x201C%3BCoordination%20of%20Frontline%20Defense%20Mechanisms%20under%20Severe%20Oxidative%20Stress.%26%23x201D%3B%20%3Ci%3EMolecular%20Systems%20Biology%3C%5C%2Fi%3E%206%20%28July%202010%29%3A%20393.%20%3Ca%20href%3D%27https%3A%5C%2F%5C%2Fdoi.org%5C%2F10.1038%5C%2Fmsb.2010.50%27%3Ehttps%3A%5C%2F%5C%2Fdoi.org%5C%2F10.1038%5C%2Fmsb.2010.50%3C%5C%2Fa%3E.%20%3Ca%20title%3D%27Cite%20in%20RIS%20Format%27%20class%3D%27zp-CiteRIS%27%20href%3D%27https%3A%5C%2F%5C%2Fbaliga.systemsbiology.net%5C%2Fwp-content%5C%2Fplugins%5C%2Fzotpress%5C%2Flib%5C%2Frequest%5C%2Frequest.cite.php%3Fapi_user_id%3D4882752%26amp%3Bitem_key%3DP9ESCQRI%27%3ECite%3C%5C%2Fa%3E%20%3C%5C%2Fdiv%3E%5Cn%3C%5C%2Fdiv%3E%22%2C%22data%22%3A%7B%22itemType%22%3A%22journalArticle%22%2C%22title%22%3A%22Coordination%20of%20frontline%20defense%20mechanisms%20under%20severe%20oxidative%20stress.%22%2C%22creators%22%3A%5B%7B%22creatorType%22%3A%22author%22%2C%22firstName%22%3A%22Amardeep%22%2C%22lastName%22%3A%22Kaur%22%7D%2C%7B%22creatorType%22%3A%22author%22%2C%22firstName%22%3A%22Phu%20T.%22%2C%22lastName%22%3A%22Van%22%7D%2C%7B%22creatorType%22%3A%22author%22%2C%22firstName%22%3A%22Courtney%20R.%22%2C%22lastName%22%3A%22Busch%22%7D%2C%7B%22creatorType%22%3A%22author%22%2C%22firstName%22%3A%22Courtney%20K.%22%2C%22lastName%22%3A%22Robinson%22%7D%2C%7B%22creatorType%22%3A%22author%22%2C%22firstName%22%3A%22Min%22%2C%22lastName%22%3A%22Pan%22%7D%2C%7B%22creatorType%22%3A%22author%22%2C%22firstName%22%3A%22Wyming%20Lee%22%2C%22lastName%22%3A%22Pang%22%7D%2C%7B%22creatorType%22%3A%22author%22%2C%22firstName%22%3A%22David%20J.%22%2C%22lastName%22%3A%22Reiss%22%7D%2C%7B%22creatorType%22%3A%22author%22%2C%22firstName%22%3A%22Jocelyne%22%2C%22lastName%22%3A%22DiRuggiero%22%7D%2C%7B%22creatorType%22%3A%22author%22%2C%22firstName%22%3A%22Nitin%20S.%22%2C%22lastName%22%3A%22Baliga%22%7D%5D%2C%22abstractNote%22%3A%22Complexity%20of%20cellular%20response%20to%20oxidative%20stress%20%28OS%29%20stems%20from%20its%20wide-ranging%20damage%20to%20nucleic%20acids%2C%20proteins%2C%20carbohydrates%2C%20and%20lipids.%20We%20have%20constructed%20a%20systems%20model%20of%20OS%20response%20%28OSR%29%20for%20Halobacterium%20salinarum%22%2C%22date%22%3A%222010%20Jul%22%2C%22language%22%3A%22eng%22%2C%22DOI%22%3A%2210.1038%5C%2Fmsb.2010.50%22%2C%22ISSN%22%3A%221744-4292%201744-4292%22%2C%22url%22%3A%22%22%2C%22collections%22%3A%5B%225FRVZCA6%22%5D%2C%22dateModified%22%3A%222022-12-07T08%3A39%3A01Z%22%7D%7D%2C%7B%22key%22%3A%22SBF9AEMW%22%2C%22library%22%3A%7B%22id%22%3A4882752%7D%2C%22meta%22%3A%7B%22creatorSummary%22%3A%22Plaisier%20et%20al.%22%2C%22parsedDate%22%3A%222014%22%2C%22numChildren%22%3A0%7D%2C%22bib%22%3A%22%3Cdiv%20class%3D%5C%22csl-bib-body%5C%22%20style%3D%5C%22line-height%3A%201.35%3B%20padding-left%3A%201em%3B%20text-indent%3A-1em%3B%5C%22%3E%5Cn%20%20%3Cdiv%20class%3D%5C%22csl-entry%5C%22%3EPlaisier%2C%20Christopher%20L.%2C%20Fang-Yin%20Lo%2C%20Justin%20Ashworth%2C%20Aaron%20N.%20Brooks%2C%20Karlyn%20D.%20Beer%2C%20Amardeep%20Kaur%2C%20Min%20Pan%2C%20David%20J.%20Reiss%2C%20Marc%20T.%20Facciotti%2C%20and%20Nitin%20S.%20Baliga.%20%26%23x201C%3BEvolution%20of%20Context%20Dependent%20Regulation%20by%20Expansion%20of%20Feast%5C%2FFamine%20Regulatory%20Proteins.%26%23x201D%3B%20%3Ci%3EBMC%20Systems%20Biology%3C%5C%2Fi%3E%208%20%282014%29%3A%20122.%20%3Ca%20href%3D%27https%3A%5C%2F%5C%2Fdoi.org%5C%2F10.1186%5C%2Fs12918-014-0122-2%27%3Ehttps%3A%5C%2F%5C%2Fdoi.org%5C%2F10.1186%5C%2Fs12918-014-0122-2%3C%5C%2Fa%3E.%20%3Ca%20title%3D%27Cite%20in%20RIS%20Format%27%20class%3D%27zp-CiteRIS%27%20href%3D%27https%3A%5C%2F%5C%2Fbaliga.systemsbiology.net%5C%2Fwp-content%5C%2Fplugins%5C%2Fzotpress%5C%2Flib%5C%2Frequest%5C%2Frequest.cite.php%3Fapi_user_id%3D4882752%26amp%3Bitem_key%3DSBF9AEMW%27%3ECite%3C%5C%2Fa%3E%20%3C%5C%2Fdiv%3E%5Cn%3C%5C%2Fdiv%3E%22%2C%22data%22%3A%7B%22itemType%22%3A%22journalArticle%22%2C%22title%22%3A%22Evolution%20of%20context%20dependent%20regulation%20by%20expansion%20of%20feast%5C%2Ffamine%20regulatory%20proteins.%22%2C%22creators%22%3A%5B%7B%22creatorType%22%3A%22author%22%2C%22firstName%22%3A%22Christopher%20L.%22%2C%22lastName%22%3A%22Plaisier%22%7D%2C%7B%22creatorType%22%3A%22author%22%2C%22firstName%22%3A%22Fang-Yin%22%2C%22lastName%22%3A%22Lo%22%7D%2C%7B%22creatorType%22%3A%22author%22%2C%22firstName%22%3A%22Justin%22%2C%22lastName%22%3A%22Ashworth%22%7D%2C%7B%22creatorType%22%3A%22author%22%2C%22firstName%22%3A%22Aaron%20N.%22%2C%22lastName%22%3A%22Brooks%22%7D%2C%7B%22creatorType%22%3A%22author%22%2C%22firstName%22%3A%22Karlyn%20D.%22%2C%22lastName%22%3A%22Beer%22%7D%2C%7B%22creatorType%22%3A%22author%22%2C%22firstName%22%3A%22Amardeep%22%2C%22lastName%22%3A%22Kaur%22%7D%2C%7B%22creatorType%22%3A%22author%22%2C%22firstName%22%3A%22Min%22%2C%22lastName%22%3A%22Pan%22%7D%2C%7B%22creatorType%22%3A%22author%22%2C%22firstName%22%3A%22David%20J.%22%2C%22lastName%22%3A%22Reiss%22%7D%2C%7B%22creatorType%22%3A%22author%22%2C%22firstName%22%3A%22Marc%20T.%22%2C%22lastName%22%3A%22Facciotti%22%7D%2C%7B%22creatorType%22%3A%22author%22%2C%22firstName%22%3A%22Nitin%20S.%22%2C%22lastName%22%3A%22Baliga%22%7D%5D%2C%22abstractNote%22%3A%22BACKGROUND%3A%20Expansion%20of%20transcription%20factors%20is%20believed%20to%20have%20played%20a%20crucial%20role%20in%20evolution%20of%20all%20organisms%20by%20enabling%20them%20to%20deal%20with%20dynamic%20%20environments%20and%20colonize%20new%20environments.%20We%20investigated%20how%20the%20expansion%20of%20%20the%20Feast%5C%2FFamine%20Regulatory%20Protein%20%28FFRP%29%20or%20Lrp-like%20proteins%20into%20an%20eight-member%20family%20in%20Halobacterium%20salinarum%20NRC-1%20has%20aided%20in%20niche-adaptation%20of%20this%20archaeon%20to%20a%20complex%20and%20dynamically%20changing%20hypersaline%20environment.%20RESULTS%3A%20We%20mapped%20genome-wide%20binding%20locations%20for%20all%20eight%20FFRPs%2C%20investigated%20their%20preference%20for%20binding%20different%20effector%20molecules%2C%20and%20identified%20the%20contexts%20in%20which%20they%20act%20by%20analyzing%20transcriptional%20responses%20across%2035%20growth%20conditions%20that%20mimic%20different%20environmental%20and%20nutritional%20conditions%20this%20organism%20is%20likely%20to%20encounter%20in%20%20the%20wild.%20Integrative%20analysis%20of%20these%20data%20constructed%20an%20FFRP%20regulatory%20network%20with%20conditionally%20active%20states%20that%20reveal%20how%20interrelated%20variations%20%20in%20DNA-binding%20domains%2C%20effector-molecule%20preferences%2C%20and%20binding%20sites%20in%20target%20gene%20promoters%20have%20tuned%20the%20functions%20of%20each%20FFRP%20to%20the%20environments%20in%20which%20they%20act.%20We%20demonstrate%20how%20conditional%20regulation%20of%20similar%20genes%20by%20%20two%20FFRPs%2C%20AsnC%20%28an%20activator%29%20and%20VNG1237C%20%28a%20repressor%29%2C%20have%20striking%20environment-specific%20fitness%20consequences%20for%20oxidative%20stress%20management%20and%20growth%2C%20respectively.%20CONCLUSIONS%3A%20This%20study%20provides%20a%20systems%20perspective%20into%20the%20evolutionary%20process%20by%20which%20gene%20duplication%20within%20a%20transcription%20factor%20%20family%20contributes%20to%20environment-specific%20adaptation%20of%20an%20organism.%22%2C%22date%22%3A%222014%22%2C%22language%22%3A%22eng%22%2C%22DOI%22%3A%2210.1186%5C%2Fs12918-014-0122-2%22%2C%22ISSN%22%3A%221752-0509%201752-0509%22%2C%22url%22%3A%22%22%2C%22collections%22%3A%5B%225FRVZCA6%22%5D%2C%22dateModified%22%3A%222022-12-07T08%3A38%3A57Z%22%7D%7D%2C%7B%22key%22%3A%22AAPJAVDN%22%2C%22library%22%3A%7B%22id%22%3A4882752%7D%2C%22meta%22%3A%7B%22creatorSummary%22%3A%22Facciotti%20et%20al.%22%2C%22parsedDate%22%3A%222007-03-13%22%2C%22numChildren%22%3A0%7D%2C%22bib%22%3A%22%3Cdiv%20class%3D%5C%22csl-bib-body%5C%22%20style%3D%5C%22line-height%3A%201.35%3B%20padding-left%3A%201em%3B%20text-indent%3A-1em%3B%5C%22%3E%5Cn%20%20%3Cdiv%20class%3D%5C%22csl-entry%5C%22%3EFacciotti%2C%20Marc%20T.%2C%20David%20J.%20Reiss%2C%20Min%20Pan%2C%20Amardeep%20Kaur%2C%20Madhavi%20Vuthoori%2C%20Richard%20Bonneau%2C%20Paul%20Shannon%2C%20et%20al.%20%26%23x201C%3BGeneral%20Transcription%20Factor%20Specified%20Global%20Gene%20Regulation%20in%20Archaea.%26%23x201D%3B%20%3Ci%3EProceedings%20of%20the%20National%20Academy%20of%20Sciences%20of%20the%20United%20States%20of%20America%3C%5C%2Fi%3E%20104%2C%20no.%2011%20%28March%2013%2C%202007%29%3A%204630%26%23x2013%3B35.%20%3Ca%20href%3D%27https%3A%5C%2F%5C%2Fdoi.org%5C%2F10.1073%5C%2Fpnas.0611663104%27%3Ehttps%3A%5C%2F%5C%2Fdoi.org%5C%2F10.1073%5C%2Fpnas.0611663104%3C%5C%2Fa%3E.%20%3Ca%20title%3D%27Cite%20in%20RIS%20Format%27%20class%3D%27zp-CiteRIS%27%20href%3D%27https%3A%5C%2F%5C%2Fbaliga.systemsbiology.net%5C%2Fwp-content%5C%2Fplugins%5C%2Fzotpress%5C%2Flib%5C%2Frequest%5C%2Frequest.cite.php%3Fapi_user_id%3D4882752%26amp%3Bitem_key%3DAAPJAVDN%27%3ECite%3C%5C%2Fa%3E%20%3C%5C%2Fdiv%3E%5Cn%3C%5C%2Fdiv%3E%22%2C%22data%22%3A%7B%22itemType%22%3A%22journalArticle%22%2C%22title%22%3A%22General%20transcription%20factor%20specified%20global%20gene%20regulation%20in%20archaea.%22%2C%22creators%22%3A%5B%7B%22creatorType%22%3A%22author%22%2C%22firstName%22%3A%22Marc%20T.%22%2C%22lastName%22%3A%22Facciotti%22%7D%2C%7B%22creatorType%22%3A%22author%22%2C%22firstName%22%3A%22David%20J.%22%2C%22lastName%22%3A%22Reiss%22%7D%2C%7B%22creatorType%22%3A%22author%22%2C%22firstName%22%3A%22Min%22%2C%22lastName%22%3A%22Pan%22%7D%2C%7B%22creatorType%22%3A%22author%22%2C%22firstName%22%3A%22Amardeep%22%2C%22lastName%22%3A%22Kaur%22%7D%2C%7B%22creatorType%22%3A%22author%22%2C%22firstName%22%3A%22Madhavi%22%2C%22lastName%22%3A%22Vuthoori%22%7D%2C%7B%22creatorType%22%3A%22author%22%2C%22firstName%22%3A%22Richard%22%2C%22lastName%22%3A%22Bonneau%22%7D%2C%7B%22creatorType%22%3A%22author%22%2C%22firstName%22%3A%22Paul%22%2C%22lastName%22%3A%22Shannon%22%7D%2C%7B%22creatorType%22%3A%22author%22%2C%22firstName%22%3A%22Alok%22%2C%22lastName%22%3A%22Srivastava%22%7D%2C%7B%22creatorType%22%3A%22author%22%2C%22firstName%22%3A%22Samuel%20M.%22%2C%22lastName%22%3A%22Donohoe%22%7D%2C%7B%22creatorType%22%3A%22author%22%2C%22firstName%22%3A%22Leroy%20E.%22%2C%22lastName%22%3A%22Hood%22%7D%2C%7B%22creatorType%22%3A%22author%22%2C%22firstName%22%3A%22Nitin%20S.%22%2C%22lastName%22%3A%22Baliga%22%7D%5D%2C%22abstractNote%22%3A%22Cells%20responding%20to%20dramatic%20environmental%20changes%20or%20undergoing%20a%20developmental%20%20switch%20typically%20change%20the%20expression%20of%20numerous%20genes.%20In%20bacteria%2C%20sigma%20factors%20regulate%20much%20of%20this%20process%2C%20whereas%20in%20eukaryotes%2C%20four%20RNA%20polymerases%20and%20a%20multiplicity%20of%20generalized%20transcription%20factors%20%28GTFs%29%20are%20required.%20Here%2C%20by%20using%20a%20systems%20approach%2C%20we%20provide%20experimental%20evidence%20%28including%20protein-coimmunoprecipitation%2C%20ChIP-Chip%2C%20GTF%20perturbation%20and%20knockout%2C%20and%20measurement%20of%20transcriptional%20changes%20in%20these%20genetically%20perturbed%20strains%29%20for%20how%20archaea%20likely%20accomplish%20similar%20large-scale%20transcriptional%20segregation%20and%20modulation%20of%20physiological%20functions.%20We%20are%20able%20to%20associate%20GTFs%20to%20nearly%20half%20of%20all%20putative%20promoters%20and%20show%20evidence%20for%20at%20least%207%20of%20the%20possible%2042%20functional%20GTF%20pairs.%20This%20report%20represents%20a%20%20significant%20contribution%20toward%20closing%20the%20gap%20in%20our%20understanding%20of%20gene%20regulation%20by%20GTFs%20for%20all%20three%20domains%20of%20life%20and%20provides%20an%20example%20for%20how%20%20to%20use%20various%20experimental%20techniques%20to%20rapidly%20learn%20significant%20portions%20of%20a%20global%20gene%20regulatory%20network%20of%20organisms%20for%20which%20little%20has%20been%20previously%20%20known.%22%2C%22date%22%3A%222007%20Mar%2013%22%2C%22language%22%3A%22eng%22%2C%22DOI%22%3A%2210.1073%5C%2Fpnas.0611663104%22%2C%22ISSN%22%3A%220027-8424%200027-8424%22%2C%22url%22%3A%22%22%2C%22collections%22%3A%5B%225FRVZCA6%22%5D%2C%22dateModified%22%3A%222022-12-07T08%3A38%3A57Z%22%7D%7D%2C%7B%22key%22%3A%22GF4IDSRA%22%2C%22library%22%3A%7B%22id%22%3A4882752%7D%2C%22meta%22%3A%7B%22creatorSummary%22%3A%22Van%20et%20al.%22%2C%22parsedDate%22%3A%222008-09%22%2C%22numChildren%22%3A0%7D%2C%22bib%22%3A%22%3Cdiv%20class%3D%5C%22csl-bib-body%5C%22%20style%3D%5C%22line-height%3A%201.35%3B%20padding-left%3A%201em%3B%20text-indent%3A-1em%3B%5C%22%3E%5Cn%20%20%3Cdiv%20class%3D%5C%22csl-entry%5C%22%3EVan%2C%20Phu%20T.%2C%20Amy%20K.%20Schmid%2C%20Nichole%20L.%20King%2C%20Amardeep%20Kaur%2C%20Min%20Pan%2C%20Kenia%20Whitehead%2C%20Tie%20Koide%2C%20et%20al.%20%26%23x201C%3BHalobacterium%20Salinarum%20NRC-1%20PeptideAtlas%3A%20Toward%20Strategies%20for%20Targeted%20Proteomics%20and%20Improved%20Proteome%20Coverage.%26%23x201D%3B%20%3Ci%3EJournal%20of%20Proteome%20Research%3C%5C%2Fi%3E%207%2C%20no.%209%20%28September%202008%29%3A%203755%26%23x2013%3B64.%20%3Ca%20href%3D%27https%3A%5C%2F%5C%2Fdoi.org%5C%2F10.1021%5C%2Fpr800031f%27%3Ehttps%3A%5C%2F%5C%2Fdoi.org%5C%2F10.1021%5C%2Fpr800031f%3C%5C%2Fa%3E.%20%3Ca%20title%3D%27Cite%20in%20RIS%20Format%27%20class%3D%27zp-CiteRIS%27%20href%3D%27https%3A%5C%2F%5C%2Fbaliga.systemsbiology.net%5C%2Fwp-content%5C%2Fplugins%5C%2Fzotpress%5C%2Flib%5C%2Frequest%5C%2Frequest.cite.php%3Fapi_user_id%3D4882752%26amp%3Bitem_key%3DGF4IDSRA%27%3ECite%3C%5C%2Fa%3E%20%3C%5C%2Fdiv%3E%5Cn%3C%5C%2Fdiv%3E%22%2C%22data%22%3A%7B%22itemType%22%3A%22journalArticle%22%2C%22title%22%3A%22Halobacterium%20salinarum%20NRC-1%20PeptideAtlas%3A%20toward%20strategies%20for%20targeted%20proteomics%20and%20improved%20proteome%20coverage.%22%2C%22creators%22%3A%5B%7B%22creatorType%22%3A%22author%22%2C%22firstName%22%3A%22Phu%20T.%22%2C%22lastName%22%3A%22Van%22%7D%2C%7B%22creatorType%22%3A%22author%22%2C%22firstName%22%3A%22Amy%20K.%22%2C%22lastName%22%3A%22Schmid%22%7D%2C%7B%22creatorType%22%3A%22author%22%2C%22firstName%22%3A%22Nichole%20L.%22%2C%22lastName%22%3A%22King%22%7D%2C%7B%22creatorType%22%3A%22author%22%2C%22firstName%22%3A%22Amardeep%22%2C%22lastName%22%3A%22Kaur%22%7D%2C%7B%22creatorType%22%3A%22author%22%2C%22firstName%22%3A%22Min%22%2C%22lastName%22%3A%22Pan%22%7D%2C%7B%22creatorType%22%3A%22author%22%2C%22firstName%22%3A%22Kenia%22%2C%22lastName%22%3A%22Whitehead%22%7D%2C%7B%22creatorType%22%3A%22author%22%2C%22firstName%22%3A%22Tie%22%2C%22lastName%22%3A%22Koide%22%7D%2C%7B%22creatorType%22%3A%22author%22%2C%22firstName%22%3A%22Marc%20T.%22%2C%22lastName%22%3A%22Facciotti%22%7D%2C%7B%22creatorType%22%3A%22author%22%2C%22firstName%22%3A%22Young%20Ah%22%2C%22lastName%22%3A%22Goo%22%7D%2C%7B%22creatorType%22%3A%22author%22%2C%22firstName%22%3A%22Eric%20W.%22%2C%22lastName%22%3A%22Deutsch%22%7D%2C%7B%22creatorType%22%3A%22author%22%2C%22firstName%22%3A%22David%20J.%22%2C%22lastName%22%3A%22Reiss%22%7D%2C%7B%22creatorType%22%3A%22author%22%2C%22firstName%22%3A%22Parag%22%2C%22lastName%22%3A%22Mallick%22%7D%2C%7B%22creatorType%22%3A%22author%22%2C%22firstName%22%3A%22Nitin%20S.%22%2C%22lastName%22%3A%22Baliga%22%7D%5D%2C%22abstractNote%22%3A%22The%20relatively%20small%20numbers%20of%20proteins%20and%20fewer%20possible%20post-translational%20modifications%20in%20microbes%20provide%20a%20unique%20opportunity%20to%20comprehensively%20characterize%20their%20dynamic%20proteomes.%20We%20have%20constructed%20a%20PeptideAtlas%20%28PA%29%20covering%2062.7%25%20of%20the%20predicted%20proteome%20of%20the%20extremely%20halophilic%20archaeon%20Halobacterium%20salinarum%20NRC-1%20by%20compiling%20approximately%20636%20000%20tandem%20mass%20spectra%20from%20497%20mass%20spectrometry%20runs%20in%2088%20experiments.%20Analysis%20of%20the%20PA%20with%20respect%20to%20biophysical%20properties%20of%20constituent%20peptides%2C%20functional%20properties%20of%20parent%20proteins%20of%20detected%20peptides%2C%20and%20performance%20of%20different%20%20mass%20spectrometry%20approaches%20has%20highlighted%20plausible%20strategies%20for%20improving%20proteome%20coverage%20and%20selecting%20signature%20peptides%20for%20targeted%20proteomics.%20Notably%2C%20discovery%20of%20a%20significant%20correlation%20between%20absolute%20abundances%20of%20mRNAs%20and%20proteins%20has%20helped%20identify%20low%20abundance%20of%20proteins%20as%20the%20major%20limitation%20in%20peptide%20detection.%20Furthermore%2C%20we%20have%20discovered%20that%20iTRAQ%20labeling%20for%20quantitative%20proteomic%20analysis%20introduces%20a%20significant%20bias%20in%20peptide%20detection%20by%20mass%20spectrometry.%20Therefore%2C%20despite%20identifying%20at%20least%20one%20proteotypic%20peptide%20for%20almost%20all%20proteins%20in%20the%20PA%2C%20a%20context-dependent%20selection%20of%20proteotypic%20peptides%20appears%20to%20be%20the%20most%20effective%20approach%20for%20targeted%20proteomics.%22%2C%22date%22%3A%222008%20Sep%22%2C%22language%22%3A%22eng%22%2C%22DOI%22%3A%2210.1021%5C%2Fpr800031f%22%2C%22ISSN%22%3A%221535-3893%201535-3893%22%2C%22url%22%3A%22%22%2C%22collections%22%3A%5B%225FRVZCA6%22%5D%2C%22dateModified%22%3A%222022-12-07T08%3A38%3A51Z%22%7D%7D%2C%7B%22key%22%3A%2246RJSJFD%22%2C%22library%22%3A%7B%22id%22%3A4882752%7D%2C%22meta%22%3A%7B%22creatorSummary%22%3A%22Abidi%20et%20al.%22%2C%22parsedDate%22%3A%222019-07-22%22%2C%22numChildren%22%3A0%7D%2C%22bib%22%3A%22%3Cdiv%20class%3D%5C%22csl-bib-body%5C%22%20style%3D%5C%22line-height%3A%201.35%3B%20padding-left%3A%201em%3B%20text-indent%3A-1em%3B%5C%22%3E%5Cn%20%20%3Cdiv%20class%3D%5C%22csl-entry%5C%22%3EAbidi%2C%20Abrar%20A.%2C%20Eliza%20J.%20R.%20Peterson%2C%20Mario%20L.%20Arrieta-Ortiz%2C%20Boris%20Aguilar%2C%20James%20T.%20Yurkovich%2C%20Amardeep%20Kaur%2C%20Min%20Pan%2C%20Vivek%20Srinivas%2C%20Ilya%20Shmulevich%2C%20and%20Nitin%20S.%20Baliga.%20%26%23x201C%3BIntricate%20Genetic%20Programs%20Controlling%20Dormancy%20in%20Mycobacterium%20Tuberculosis.%26%23x201D%3B%20%3Ci%3EBioRxiv%3C%5C%2Fi%3E%2C%20July%2022%2C%202019%2C%20709378.%20%3Ca%20href%3D%27https%3A%5C%2F%5C%2Fdoi.org%5C%2F10.1101%5C%2F709378%27%3Ehttps%3A%5C%2F%5C%2Fdoi.org%5C%2F10.1101%5C%2F709378%3C%5C%2Fa%3E.%20%3Ca%20title%3D%27Cite%20in%20RIS%20Format%27%20class%3D%27zp-CiteRIS%27%20href%3D%27https%3A%5C%2F%5C%2Fbaliga.systemsbiology.net%5C%2Fwp-content%5C%2Fplugins%5C%2Fzotpress%5C%2Flib%5C%2Frequest%5C%2Frequest.cite.php%3Fapi_user_id%3D4882752%26amp%3Bitem_key%3D46RJSJFD%27%3ECite%3C%5C%2Fa%3E%20%3C%5C%2Fdiv%3E%5Cn%3C%5C%2Fdiv%3E%22%2C%22data%22%3A%7B%22itemType%22%3A%22journalArticle%22%2C%22title%22%3A%22Intricate%20genetic%20programs%20controlling%20dormancy%20in%20Mycobacterium%20tuberculosis%22%2C%22creators%22%3A%5B%7B%22creatorType%22%3A%22author%22%2C%22firstName%22%3A%22Abrar%20A.%22%2C%22lastName%22%3A%22Abidi%22%7D%2C%7B%22creatorType%22%3A%22author%22%2C%22firstName%22%3A%22Eliza%20J.%20R.%22%2C%22lastName%22%3A%22Peterson%22%7D%2C%7B%22creatorType%22%3A%22author%22%2C%22firstName%22%3A%22Mario%20L.%22%2C%22lastName%22%3A%22Arrieta-Ortiz%22%7D%2C%7B%22creatorType%22%3A%22author%22%2C%22firstName%22%3A%22Boris%22%2C%22lastName%22%3A%22Aguilar%22%7D%2C%7B%22creatorType%22%3A%22author%22%2C%22firstName%22%3A%22James%20T.%22%2C%22lastName%22%3A%22Yurkovich%22%7D%2C%7B%22creatorType%22%3A%22author%22%2C%22firstName%22%3A%22Amardeep%22%2C%22lastName%22%3A%22Kaur%22%7D%2C%7B%22creatorType%22%3A%22author%22%2C%22firstName%22%3A%22Min%22%2C%22lastName%22%3A%22Pan%22%7D%2C%7B%22creatorType%22%3A%22author%22%2C%22firstName%22%3A%22Vivek%22%2C%22lastName%22%3A%22Srinivas%22%7D%2C%7B%22creatorType%22%3A%22author%22%2C%22firstName%22%3A%22Ilya%22%2C%22lastName%22%3A%22Shmulevich%22%7D%2C%7B%22creatorType%22%3A%22author%22%2C%22firstName%22%3A%22Nitin%20S.%22%2C%22lastName%22%3A%22Baliga%22%7D%5D%2C%22abstractNote%22%3A%22%3Ch3%3EAbstract%3C%5C%2Fh3%3E%20%3Cp%3E%3Ci%3EMycobacterium%20tuberculosis%3C%5C%2Fi%3E%20%28MTB%29%2C%20responsible%20for%20the%20deadliest%20infectious%20disease%20worldwide%2C%20displays%20the%20remarkable%20ability%20to%20transition%20in%20and%20out%20of%20dormancy%2C%20a%20hallmark%20of%20the%20pathogen%5Cu2019s%20capacity%20to%20evade%20the%20immune%20system%20and%20opportunistically%20exploit%20immunocompromised%20individuals.%20Uncovering%20the%20gene%20regulatory%20programs%20that%20underlie%20the%20dramatic%20phenotypic%20shifts%20in%20MTB%20during%20disease%20latency%20and%20reactivation%20has%20posed%20an%20extraordinary%20challenge.%20We%20developed%20a%20novel%20experimental%20system%20to%20precisely%20control%20dissolved%20oxygen%20levels%20in%20MTB%20cultures%20in%20order%20to%20capture%20the%20chain%20of%20transcriptional%20events%20that%20unfold%20as%20MTB%20transitions%20into%20and%20out%20of%20hypoxia-induced%20dormancy.%20Using%20a%20comprehensive%20genome-wide%20transcription%20factor%20binding%20location%20map%20and%20insights%20from%20network%20topology%20analysis%2C%20we%20identified%20regulatory%20circuits%20that%20deterministically%20drive%20sequential%20transitions%20across%20six%20transcriptionally%20and%20functionally%20distinct%20states%20encompassing%20more%20than%20three-fifths%20of%20the%20MTB%20genome.%20The%20architecture%20of%20the%20genetic%20programs%20explains%20the%20transcriptional%20dynamics%20underlying%20synchronous%20entry%20of%20cells%20into%20a%20dormant%20state%20that%20is%20primed%20to%20infect%20the%20host%20upon%20encountering%20favorable%20conditions.%3C%5C%2Fp%3E%3Ch3%3EOne%20Sentence%20Summary%3C%5C%2Fh3%3E%20%3Cp%3EHigh-resolution%20transcriptional%20time-course%20reveals%20six-state%20genetic%20program%20that%20enables%20MTB%20to%20enter%20and%20exit%20hypoxia-induced%20dormancy.%3C%5C%2Fp%3E%22%2C%22date%22%3A%222019-07-22%22%2C%22language%22%3A%22en%22%2C%22DOI%22%3A%2210.1101%5C%2F709378%22%2C%22ISSN%22%3A%22%22%2C%22url%22%3A%22https%3A%5C%2F%5C%2Fwww.biorxiv.org%5C%2Fcontent%5C%2F10.1101%5C%2F709378v1%22%2C%22collections%22%3A%5B%225FRVZCA6%22%5D%2C%22dateModified%22%3A%222022-12-07T08%3A38%3A49Z%22%7D%7D%2C%7B%22key%22%3A%22AQZ3PAAZ%22%2C%22library%22%3A%7B%22id%22%3A4882752%7D%2C%22meta%22%3A%7B%22creatorSummary%22%3A%22Facciotti%20et%20al.%22%2C%22parsedDate%22%3A%222010%22%2C%22numChildren%22%3A0%7D%2C%22bib%22%3A%22%3Cdiv%20class%3D%5C%22csl-bib-body%5C%22%20style%3D%5C%22line-height%3A%201.35%3B%20padding-left%3A%201em%3B%20text-indent%3A-1em%3B%5C%22%3E%5Cn%20%20%3Cdiv%20class%3D%5C%22csl-entry%5C%22%3EFacciotti%2C%20Marc%20T.%2C%20Wyming%20L.%20Pang%2C%20Fang-yin%20Lo%2C%20Kenia%20Whitehead%2C%20Tie%20Koide%2C%20Ken-ichi%20Masumura%2C%20Min%20Pan%2C%20et%20al.%20%26%23x201C%3BLarge%20Scale%20Physiological%20Readjustment%20during%20Growth%20Enables%20Rapid%2C%20Comprehensive%20and%20Inexpensive%20Systems%20Analysis.%26%23x201D%3B%20%3Ci%3EBMC%20Systems%20Biology%3C%5C%2Fi%3E%204%20%282010%29%3A%2064.%20%3Ca%20href%3D%27https%3A%5C%2F%5C%2Fdoi.org%5C%2F10.1186%5C%2F1752-0509-4-64%27%3Ehttps%3A%5C%2F%5C%2Fdoi.org%5C%2F10.1186%5C%2F1752-0509-4-64%3C%5C%2Fa%3E.%20%3Ca%20title%3D%27Cite%20in%20RIS%20Format%27%20class%3D%27zp-CiteRIS%27%20href%3D%27https%3A%5C%2F%5C%2Fbaliga.systemsbiology.net%5C%2Fwp-content%5C%2Fplugins%5C%2Fzotpress%5C%2Flib%5C%2Frequest%5C%2Frequest.cite.php%3Fapi_user_id%3D4882752%26amp%3Bitem_key%3DAQZ3PAAZ%27%3ECite%3C%5C%2Fa%3E%20%3C%5C%2Fdiv%3E%5Cn%3C%5C%2Fdiv%3E%22%2C%22data%22%3A%7B%22itemType%22%3A%22journalArticle%22%2C%22title%22%3A%22Large%20scale%20physiological%20readjustment%20during%20growth%20enables%20rapid%2C%20comprehensive%20and%20inexpensive%20systems%20analysis.%22%2C%22creators%22%3A%5B%7B%22creatorType%22%3A%22author%22%2C%22firstName%22%3A%22Marc%20T.%22%2C%22lastName%22%3A%22Facciotti%22%7D%2C%7B%22creatorType%22%3A%22author%22%2C%22firstName%22%3A%22Wyming%20L.%22%2C%22lastName%22%3A%22Pang%22%7D%2C%7B%22creatorType%22%3A%22author%22%2C%22firstName%22%3A%22Fang-yin%22%2C%22lastName%22%3A%22Lo%22%7D%2C%7B%22creatorType%22%3A%22author%22%2C%22firstName%22%3A%22Kenia%22%2C%22lastName%22%3A%22Whitehead%22%7D%2C%7B%22creatorType%22%3A%22author%22%2C%22firstName%22%3A%22Tie%22%2C%22lastName%22%3A%22Koide%22%7D%2C%7B%22creatorType%22%3A%22author%22%2C%22firstName%22%3A%22Ken-ichi%22%2C%22lastName%22%3A%22Masumura%22%7D%2C%7B%22creatorType%22%3A%22author%22%2C%22firstName%22%3A%22Min%22%2C%22lastName%22%3A%22Pan%22%7D%2C%7B%22creatorType%22%3A%22author%22%2C%22firstName%22%3A%22Amardeep%22%2C%22lastName%22%3A%22Kaur%22%7D%2C%7B%22creatorType%22%3A%22author%22%2C%22firstName%22%3A%22David%20J.%22%2C%22lastName%22%3A%22Larsen%22%7D%2C%7B%22creatorType%22%3A%22author%22%2C%22firstName%22%3A%22David%20J.%22%2C%22lastName%22%3A%22Reiss%22%7D%2C%7B%22creatorType%22%3A%22author%22%2C%22firstName%22%3A%22Linh%22%2C%22lastName%22%3A%22Hoang%22%7D%2C%7B%22creatorType%22%3A%22author%22%2C%22firstName%22%3A%22Ewa%22%2C%22lastName%22%3A%22Kalisiak%22%7D%2C%7B%22creatorType%22%3A%22author%22%2C%22firstName%22%3A%22Trent%22%2C%22lastName%22%3A%22Northen%22%7D%2C%7B%22creatorType%22%3A%22author%22%2C%22firstName%22%3A%22Sunia%20A.%22%2C%22lastName%22%3A%22Trauger%22%7D%2C%7B%22creatorType%22%3A%22author%22%2C%22firstName%22%3A%22Gary%22%2C%22lastName%22%3A%22Siuzdak%22%7D%2C%7B%22creatorType%22%3A%22author%22%2C%22firstName%22%3A%22Nitin%20S.%22%2C%22lastName%22%3A%22Baliga%22%7D%5D%2C%22abstractNote%22%3A%22BACKGROUND%3A%20Rapidly%20characterizing%20the%20operational%20interrelationships%20among%20all%20genes%20in%20a%20given%20organism%20is%20a%20critical%20bottleneck%20to%20significantly%20advancing%20our%20understanding%20of%20thousands%20of%20newly%20sequenced%20microbial%20and%20eukaryotic%20species.%20While%20evolving%20technologies%20for%20global%20profiling%20of%20transcripts%2C%20proteins%2C%20and%20metabolites%20are%20making%20it%20possible%20to%20comprehensively%20survey%20cellular%20physiology%20%20in%20newly%20sequenced%20organisms%2C%20these%20experimental%20techniques%20have%20not%20kept%20pace%20with%20sequencing%20efforts.%20Compounding%20these%20technological%20challenges%20is%20the%20fact%20that%20individual%20experiments%20typically%20only%20stimulate%20relatively%20small-scale%20cellular%20responses%2C%20thus%20requiring%20numerous%20expensive%20experiments%20to%20survey%20the%20operational%20relationships%20among%20nearly%20all%20genetic%20elements.%20Therefore%2C%20a%20relatively%20quick%20and%20inexpensive%20strategy%20for%20observing%20changes%20in%20large%20fractions%20of%20the%20genetic%20elements%20is%20highly%20desirable.%20RESULTS%3A%20We%20have%20discovered%20in%20the%20model%20organism%20Halobacterium%20salinarum%20NRC-1%20that%20batch%20culturing%20in%20complex%20medium%20stimulates%20meaningful%20changes%20in%20the%20expression%20of%20approximately%20two%20thirds%20of%20all%20genes.%20While%20the%20majority%20of%20these%20changes%20occur%20%20during%20transition%20from%20rapid%20exponential%20growth%20to%20the%20stationary%20phase%2C%20several%20%20transient%20physiological%20states%20were%20detected%20beyond%20what%20has%20been%20previously%20observed.%20In%20sum%2C%20integrated%20analysis%20of%20transcript%20and%20metabolite%20changes%20has%20helped%20uncover%20growth%20phase-associated%20physiologies%2C%20operational%20interrelationships%20among%20two%20thirds%20of%20all%20genes%2C%20specialized%20functions%20for%20gene%20%20family%20members%2C%20waves%20of%20transcription%20factor%20activities%2C%20and%20growth%20phase%20associated%20cell%20morphology%20control.%20CONCLUSIONS%3A%20Simple%20laboratory%20culturing%20in%20complex%20medium%20can%20be%20enormously%20informative%20regarding%20the%20activities%20of%20and%20interrelationships%20among%20a%20large%20fraction%20of%20all%20genes%20in%20an%20organism.%20This%20also%20%20yields%20important%20baseline%20physiological%20context%20for%20designing%20specific%20perturbation%20experiments%20at%20different%20phases%20of%20growth.%20The%20integration%20of%20such%20growth%20and%20perturbation%20studies%20with%20measurements%20of%20associated%20environmental%20factor%20changes%20is%20a%20practical%20and%20economical%20route%20for%20the%20elucidation%20of%20comprehensive%20systems-level%20models%20of%20biological%20systems.%22%2C%22date%22%3A%222010%22%2C%22language%22%3A%22eng%22%2C%22DOI%22%3A%2210.1186%5C%2F1752-0509-4-64%22%2C%22ISSN%22%3A%221752-0509%201752-0509%22%2C%22url%22%3A%22%22%2C%22collections%22%3A%5B%225FRVZCA6%22%5D%2C%22dateModified%22%3A%222022-12-07T08%3A38%3A47Z%22%7D%7D%2C%7B%22key%22%3A%22FEEI3QD3%22%2C%22library%22%3A%7B%22id%22%3A4882752%7D%2C%22meta%22%3A%7B%22creatorSummary%22%3A%22Pang%20et%20al.%22%2C%22parsedDate%22%3A%222013%22%2C%22numChildren%22%3A0%7D%2C%22bib%22%3A%22%3Cdiv%20class%3D%5C%22csl-bib-body%5C%22%20style%3D%5C%22line-height%3A%201.35%3B%20padding-left%3A%201em%3B%20text-indent%3A-1em%3B%5C%22%3E%5Cn%20%20%3Cdiv%20class%3D%5C%22csl-entry%5C%22%3EPang%2C%20W.%20Lee%2C%20Amardeep%20Kaur%2C%20Alexander%20V.%20Ratushny%2C%20Aleksandar%20Cvetkovic%2C%20Sunil%20Kumar%2C%20Min%20Pan%2C%20Adam%20P.%20Arkin%2C%20John%20D.%20Aitchison%2C%20Michael%20W.%20W.%20Adams%2C%20and%20Nitin%20S.%20Baliga.%20%26%23x201C%3BMetallochaperones%20Regulate%20Intracellular%20Copper%20Levels.%26%23x201D%3B%20%3Ci%3EPLoS%20Computational%20Biology%3C%5C%2Fi%3E%209%2C%20no.%201%20%282013%29%3A%20e1002880.%20%3Ca%20href%3D%27https%3A%5C%2F%5C%2Fdoi.org%5C%2F10.1371%5C%2Fjournal.pcbi.1002880%27%3Ehttps%3A%5C%2F%5C%2Fdoi.org%5C%2F10.1371%5C%2Fjournal.pcbi.1002880%3C%5C%2Fa%3E.%20%3Ca%20title%3D%27Cite%20in%20RIS%20Format%27%20class%3D%27zp-CiteRIS%27%20href%3D%27https%3A%5C%2F%5C%2Fbaliga.systemsbiology.net%5C%2Fwp-content%5C%2Fplugins%5C%2Fzotpress%5C%2Flib%5C%2Frequest%5C%2Frequest.cite.php%3Fapi_user_id%3D4882752%26amp%3Bitem_key%3DFEEI3QD3%27%3ECite%3C%5C%2Fa%3E%20%3C%5C%2Fdiv%3E%5Cn%3C%5C%2Fdiv%3E%22%2C%22data%22%3A%7B%22itemType%22%3A%22journalArticle%22%2C%22title%22%3A%22Metallochaperones%20regulate%20intracellular%20copper%20levels.%22%2C%22creators%22%3A%5B%7B%22creatorType%22%3A%22author%22%2C%22firstName%22%3A%22W.%20Lee%22%2C%22lastName%22%3A%22Pang%22%7D%2C%7B%22creatorType%22%3A%22author%22%2C%22firstName%22%3A%22Amardeep%22%2C%22lastName%22%3A%22Kaur%22%7D%2C%7B%22creatorType%22%3A%22author%22%2C%22firstName%22%3A%22Alexander%20V.%22%2C%22lastName%22%3A%22Ratushny%22%7D%2C%7B%22creatorType%22%3A%22author%22%2C%22firstName%22%3A%22Aleksandar%22%2C%22lastName%22%3A%22Cvetkovic%22%7D%2C%7B%22creatorType%22%3A%22author%22%2C%22firstName%22%3A%22Sunil%22%2C%22lastName%22%3A%22Kumar%22%7D%2C%7B%22creatorType%22%3A%22author%22%2C%22firstName%22%3A%22Min%22%2C%22lastName%22%3A%22Pan%22%7D%2C%7B%22creatorType%22%3A%22author%22%2C%22firstName%22%3A%22Adam%20P.%22%2C%22lastName%22%3A%22Arkin%22%7D%2C%7B%22creatorType%22%3A%22author%22%2C%22firstName%22%3A%22John%20D.%22%2C%22lastName%22%3A%22Aitchison%22%7D%2C%7B%22creatorType%22%3A%22author%22%2C%22firstName%22%3A%22Michael%20W.%20W.%22%2C%22lastName%22%3A%22Adams%22%7D%2C%7B%22creatorType%22%3A%22author%22%2C%22firstName%22%3A%22Nitin%20S.%22%2C%22lastName%22%3A%22Baliga%22%7D%5D%2C%22abstractNote%22%3A%22Copper%20%28Cu%29%20is%20an%20important%20enzyme%20co-factor%20that%20is%20also%20extremely%20toxic%20at%20high%20intracellular%20concentrations%2C%20making%20active%20efflux%20mechanisms%20essential%20for%20preventing%20Cu%20accumulation.%20Here%2C%20we%20have%20investigated%20the%20mechanistic%20role%20of%20metallochaperones%20in%20regulating%20Cu%20efflux.%20We%20have%20constructed%20a%20computational%20model%20of%20Cu%20trafficking%20and%20efflux%20based%20on%20systems%20analysis%20of%20the%20Cu%20stress%20response%20of%20Halobacterium%20salinarum.%20We%20have%20validated%20several%20model%20predictions%20%20via%20assays%20of%20transcriptional%20dynamics%20and%20intracellular%20Cu%20levels%2C%20discovering%20a%20completely%20novel%20function%20for%20metallochaperones.%20We%20demonstrate%20that%20in%20addition%20%20to%20trafficking%20Cu%20ions%2C%20metallochaperones%20also%20function%20as%20buffers%20to%20modulate%20the%20transcriptional%20responsiveness%20and%20efficacy%20of%20Cu%20efflux.%20This%20buffering%20function%20of%20metallochaperones%20ultimately%20sets%20the%20upper%20limit%20for%20intracellular%20Cu%20levels%20and%20provides%20a%20mechanistic%20explanation%20for%20previously%20observed%20Cu%20metallochaperone%20mutation%20phenotypes.%22%2C%22date%22%3A%222013%22%2C%22language%22%3A%22eng%22%2C%22DOI%22%3A%2210.1371%5C%2Fjournal.pcbi.1002880%22%2C%22ISSN%22%3A%221553-7358%201553-734X%22%2C%22url%22%3A%22%22%2C%22collections%22%3A%5B%225FRVZCA6%22%5D%2C%22dateModified%22%3A%222022-12-07T08%3A38%3A41Z%22%7D%7D%2C%7B%22key%22%3A%22BCDQ3A44%22%2C%22library%22%3A%7B%22id%22%3A4882752%7D%2C%22meta%22%3A%7B%22creatorSummary%22%3A%22Srinivas%20et%20al.%22%2C%22parsedDate%22%3A%222020-12-01%22%2C%22numChildren%22%3A0%7D%2C%22bib%22%3A%22%3Cdiv%20class%3D%5C%22csl-bib-body%5C%22%20style%3D%5C%22line-height%3A%201.35%3B%20padding-left%3A%201em%3B%20text-indent%3A-1em%3B%5C%22%3E%5Cn%20%20%3Cdiv%20class%3D%5C%22csl-entry%5C%22%3ESrinivas%2C%20Vivek%2C%20Mario%20L.%20Arrieta-Ortiz%2C%20Amardeep%20Kaur%2C%20Eliza%20J.%20R.%20Peterson%2C%20and%20Nitin%20S.%20Baliga.%20%26%23x201C%3BPerSort%20Facilitates%20Characterization%20and%20Elimination%20of%20Persister%20Subpopulation%20in%20Mycobacteria.%26%23x201D%3B%20Edited%20by%20Charles%20Langelier.%20%3Ci%3EMSystems%3C%5C%2Fi%3E%205%2C%20no.%206%20%28December%201%2C%202020%29%3A%20e01127-20%2C%20%5C%2Fmsystems%5C%2F5%5C%2F6%5C%2FmSys.01127-20.atom.%20%3Ca%20href%3D%27https%3A%5C%2F%5C%2Fdoi.org%5C%2F10.1128%5C%2FmSystems.01127-20%27%3Ehttps%3A%5C%2F%5C%2Fdoi.org%5C%2F10.1128%5C%2FmSystems.01127-20%3C%5C%2Fa%3E.%20%3Ca%20title%3D%27Cite%20in%20RIS%20Format%27%20class%3D%27zp-CiteRIS%27%20href%3D%27https%3A%5C%2F%5C%2Fbaliga.systemsbiology.net%5C%2Fwp-content%5C%2Fplugins%5C%2Fzotpress%5C%2Flib%5C%2Frequest%5C%2Frequest.cite.php%3Fapi_user_id%3D4882752%26amp%3Bitem_key%3DBCDQ3A44%27%3ECite%3C%5C%2Fa%3E%20%3C%5C%2Fdiv%3E%5Cn%3C%5C%2Fdiv%3E%22%2C%22data%22%3A%7B%22itemType%22%3A%22journalArticle%22%2C%22title%22%3A%22PerSort%20Facilitates%20Characterization%20and%20Elimination%20of%20Persister%20Subpopulation%20in%20Mycobacteria%22%2C%22creators%22%3A%5B%7B%22creatorType%22%3A%22author%22%2C%22firstName%22%3A%22Vivek%22%2C%22lastName%22%3A%22Srinivas%22%7D%2C%7B%22creatorType%22%3A%22author%22%2C%22firstName%22%3A%22Mario%20L.%22%2C%22lastName%22%3A%22Arrieta-Ortiz%22%7D%2C%7B%22creatorType%22%3A%22author%22%2C%22firstName%22%3A%22Amardeep%22%2C%22lastName%22%3A%22Kaur%22%7D%2C%7B%22creatorType%22%3A%22author%22%2C%22firstName%22%3A%22Eliza%20J.%20R.%22%2C%22lastName%22%3A%22Peterson%22%7D%2C%7B%22creatorType%22%3A%22author%22%2C%22firstName%22%3A%22Nitin%20S.%22%2C%22lastName%22%3A%22Baliga%22%7D%2C%7B%22creatorType%22%3A%22editor%22%2C%22firstName%22%3A%22Charles%22%2C%22lastName%22%3A%22Langelier%22%7D%5D%2C%22abstractNote%22%3A%22ABSTRACT%20%5Cn%20%20%20%20%20%20%20%20%20%20%20%20%20%5Cn%20%20%20%20%20%20%20%20%20%20%20%20%20%20Mycobacterium%20tuberculosis%20%5Cn%20%20%20%20%20%20%20%20%20%20%20%20%20%20%28MTB%29%20generates%20phenotypic%20diversity%20to%20persist%20and%20survive%20the%20harsh%20conditions%20encountered%20during%20infection.%20MTB%20avoids%20immune%20effectors%20and%20antibacterial%20killing%20by%20entering%20into%20distinct%20physiological%20states.%20The%20surviving%20cells%2C%20persisters%2C%20are%20a%20major%20barrier%20to%20the%20timely%20and%20relapse-free%20treatment%20of%20tuberculosis%20%28TB%29.%20We%20present%20for%20the%20first%20time%2C%20PerSort%2C%20a%20method%20to%20isolate%20and%20characterize%20persisters%20in%20the%20absence%20of%20antibiotic%20or%20other%20pressure.%20We%20demonstrate%20the%20value%20of%20PerSort%20to%20isolate%20translationally%20dormant%20cells%20that%20preexisted%20in%20small%20numbers%20within%20%5Cn%20%20%20%20%20%20%20%20%20%20%20%20%20%20Mycobacterium%20%5Cn%20%20%20%20%20%20%20%20%20%20%20%20%20%20species%20cultures%20growing%20under%20optimal%20conditions%20but%20that%20dramatically%20increased%20in%20proportion%20under%20stress%20conditions.%20The%20translationally%20dormant%20subpopulation%20exhibited%20multidrug%20tolerance%20and%20regrowth%20properties%20consistent%20with%20those%20of%20persister%20cells.%20Furthermore%2C%20PerSort%20enabled%20single-cell%20transcriptional%20profiling%20that%20provided%20evidence%20that%20the%20translationally%20dormant%20persisters%20were%20generated%20through%20a%20variety%20of%20mechanisms%2C%20including%20%5Cn%20%20%20%20%20%20%20%20%20%20%20%20%20%20vapC30%20%5Cn%20%20%20%20%20%20%20%20%20%20%20%20%20%20%2C%20%5Cn%20%20%20%20%20%20%20%20%20%20%20%20%20%20mazF%20%5Cn%20%20%20%20%20%20%20%20%20%20%20%20%20%20%2C%20and%20%5Cn%20%20%20%20%20%20%20%20%20%20%20%20%20%20relA%20%5Cn%20%20%20%20%20%20%20%20%20%20%20%20%20%20%5C%2F%20%5Cn%20%20%20%20%20%20%20%20%20%20%20%20%20%20spoT%20%5Cn%20%20%20%20%20%20%20%20%20%20%20%20%20%20overexpression.%20Finally%2C%20we%20demonstrate%20that%20notwithstanding%20the%20varied%20mechanisms%20by%20which%20the%20persister%20cells%20were%20generated%2C%20they%20converge%20on%20a%20similar%20low-oxygen%20metabolic%20state%20that%20was%20reversed%20through%20activation%20of%20respiration%20to%20rapidly%20eliminate%20persisters%20fostered%20under%20host-relevant%20stress%20conditions.%20We%20conclude%20that%20PerSort%20provides%20a%20new%20tool%20to%20study%20MTB%20persisters%2C%20enabling%20targeted%20strategies%20to%20improve%20and%20shorten%20the%20treatment%20of%20TB.%20%5Cn%20%20%20%20%20%20%20%20%20%20%20%20%20%5Cn%20%20%20%20%20%20%20%20%20%20%20%20%20%5Cn%20%20%20%20%20%20%20%20%20%20%20%20%20%20IMPORTANCE%20%5Cn%20%20%20%20%20%20%20%20%20%20%20%20%20%20Mycobacterium%20tuberculosis%20%5Cn%20%20%20%20%20%20%20%20%20%20%20%20%20%20%28MTB%29%20persists%20and%20survives%20antibiotic%20treatments%20by%20generating%20phenotypically%20heterogeneous%20drug-tolerant%20subpopulations.%20The%20surviving%20cells%2C%20persisters%2C%20are%20a%20major%20barrier%20to%20the%20relapse-free%20treatment%20of%20tuberculosis%20%28TB%29%2C%20which%20is%20already%20killing%20%3E1.8%20million%20people%20every%20year%20and%20becoming%20deadlier%20with%20the%20emergence%20of%20multidrug-resistant%20strains.%20This%20study%20describes%20PerSort%2C%20a%20cell%20sorting%20method%20to%20isolate%20and%20characterize%2C%20without%20antibiotic%20treatment%2C%20translationally%20dormant%20persisters%20that%20preexist%20in%20small%20numbers%20within%20%5Cn%20%20%20%20%20%20%20%20%20%20%20%20%20%20Mycobacterium%20%5Cn%20%20%20%20%20%20%20%20%20%20%20%20%20%20cultures.%20Characterization%20of%20this%20subpopulation%20has%20discovered%20multiple%20mechanisms%20by%20which%20mycobacterial%20persisters%20emerge%20and%20unveiled%20the%20physiological%20basis%20for%20their%20dormant%20and%20multidrug-tolerant%20physiological%20state.%20This%20analysis%20has%20discovered%20that%20activating%20oxygen%20respiratory%20physiology%20using%20%5Cn%20%20%20%20%20%20%20%20%20%20%20%20%20%20l-%20%5Cn%20%20%20%20%20%20%20%20%20%20%20%20%20%20cysteine%20eliminates%20preexisting%20persister%20subpopulations%2C%20potentiating%20rapid%20antibiotic%20killing%20of%20mycobacteria%20under%20host-relevant%20stress.%20PerSort%20serves%20as%20a%20new%20tool%20to%20study%20MTB%20persisters%20for%20enabling%20targeted%20strategies%20to%20improve%20and%20shorten%20the%20treatment%20of%20TB.%22%2C%22date%22%3A%222020-12-01%22%2C%22language%22%3A%22en%22%2C%22DOI%22%3A%2210.1128%5C%2FmSystems.01127-20%22%2C%22ISSN%22%3A%222379-5077%22%2C%22url%22%3A%22https%3A%5C%2F%5C%2Fmsystems.asm.org%5C%2Fcontent%5C%2F5%5C%2F6%5C%2Fe01127-20%22%2C%22collections%22%3A%5B%225FRVZCA6%22%5D%2C%22dateModified%22%3A%222022-12-07T08%3A38%3A36Z%22%7D%7D%2C%7B%22key%22%3A%22CFE44RUA%22%2C%22library%22%3A%7B%22id%22%3A4882752%7D%2C%22meta%22%3A%7B%22creatorSummary%22%3A%22Schmid%20et%20al.%22%2C%22parsedDate%22%3A%222007-10%22%2C%22numChildren%22%3A0%7D%2C%22bib%22%3A%22%3Cdiv%20class%3D%5C%22csl-bib-body%5C%22%20style%3D%5C%22line-height%3A%201.35%3B%20padding-left%3A%201em%3B%20text-indent%3A-1em%3B%5C%22%3E%5Cn%20%20%3Cdiv%20class%3D%5C%22csl-entry%5C%22%3ESchmid%2C%20Amy%20K.%2C%20David%20J.%20Reiss%2C%20Amardeep%20Kaur%2C%20Min%20Pan%2C%20Nichole%20King%2C%20Phu%20T.%20Van%2C%20Laura%20Hohmann%2C%20Daniel%20B.%20Martin%2C%20and%20Nitin%20S.%20Baliga.%20%26%23x201C%3BThe%20Anatomy%20of%20Microbial%20Cell%20State%20Transitions%20in%20Response%20to%20Oxygen.%26%23x201D%3B%20%3Ci%3EGenome%20Research%3C%5C%2Fi%3E%2017%2C%20no.%2010%20%28October%202007%29%3A%201399%26%23x2013%3B1413.%20%3Ca%20href%3D%27https%3A%5C%2F%5C%2Fdoi.org%5C%2F10.1101%5C%2Fgr.6728007%27%3Ehttps%3A%5C%2F%5C%2Fdoi.org%5C%2F10.1101%5C%2Fgr.6728007%3C%5C%2Fa%3E.%20%3Ca%20title%3D%27Cite%20in%20RIS%20Format%27%20class%3D%27zp-CiteRIS%27%20href%3D%27https%3A%5C%2F%5C%2Fbaliga.systemsbiology.net%5C%2Fwp-content%5C%2Fplugins%5C%2Fzotpress%5C%2Flib%5C%2Frequest%5C%2Frequest.cite.php%3Fapi_user_id%3D4882752%26amp%3Bitem_key%3DCFE44RUA%27%3ECite%3C%5C%2Fa%3E%20%3C%5C%2Fdiv%3E%5Cn%3C%5C%2Fdiv%3E%22%2C%22data%22%3A%7B%22itemType%22%3A%22journalArticle%22%2C%22title%22%3A%22The%20anatomy%20of%20microbial%20cell%20state%20transitions%20in%20response%20to%20oxygen.%22%2C%22creators%22%3A%5B%7B%22creatorType%22%3A%22author%22%2C%22firstName%22%3A%22Amy%20K.%22%2C%22lastName%22%3A%22Schmid%22%7D%2C%7B%22creatorType%22%3A%22author%22%2C%22firstName%22%3A%22David%20J.%22%2C%22lastName%22%3A%22Reiss%22%7D%2C%7B%22creatorType%22%3A%22author%22%2C%22firstName%22%3A%22Amardeep%22%2C%22lastName%22%3A%22Kaur%22%7D%2C%7B%22creatorType%22%3A%22author%22%2C%22firstName%22%3A%22Min%22%2C%22lastName%22%3A%22Pan%22%7D%2C%7B%22creatorType%22%3A%22author%22%2C%22firstName%22%3A%22Nichole%22%2C%22lastName%22%3A%22King%22%7D%2C%7B%22creatorType%22%3A%22author%22%2C%22firstName%22%3A%22Phu%20T.%22%2C%22lastName%22%3A%22Van%22%7D%2C%7B%22creatorType%22%3A%22author%22%2C%22firstName%22%3A%22Laura%22%2C%22lastName%22%3A%22Hohmann%22%7D%2C%7B%22creatorType%22%3A%22author%22%2C%22firstName%22%3A%22Daniel%20B.%22%2C%22lastName%22%3A%22Martin%22%7D%2C%7B%22creatorType%22%3A%22author%22%2C%22firstName%22%3A%22Nitin%20S.%22%2C%22lastName%22%3A%22Baliga%22%7D%5D%2C%22abstractNote%22%3A%22Adjustment%20of%20physiology%20in%20response%20to%20changes%20in%20oxygen%20availability%20is%20critical%20for%20the%20survival%20of%20all%20organisms.%20However%2C%20the%20chronology%20of%20events%20and%20the%20regulatory%20processes%20that%20determine%20how%20and%20when%20changes%20in%20environmental%20oxygen%20tension%20result%20in%20an%20appropriate%20cellular%20response%20is%20not%20well%20understood%20%20at%20a%20systems%20level.%20Therefore%2C%20transcriptome%2C%20proteome%2C%20ATP%2C%20and%20growth%20changes%20were%20analyzed%20in%20a%20halophilic%20archaeon%20to%20generate%20a%20temporal%20model%20that%20describes%20the%20cellular%20events%20that%20drive%20the%20transition%20between%20the%20organism%27s%20two%20opposing%20cell%20states%20of%20anoxic%20quiescence%20and%20aerobic%20growth.%20According%20to%20this%20model%2C%20upon%20oxygen%20influx%2C%20an%20initial%20burst%20of%20protein%20synthesis%20precedes%20ATP%20and%20transcription%20induction%2C%20rapidly%20driving%20the%20cell%20out%20of%20anoxic%20quiescence%2C%20culminating%20in%20the%20resumption%20of%20growth.%20This%20model%20also%20suggests%20that%20quiescent%20cells%20appear%20to%20remain%20actively%20poised%20for%20energy%20production%20from%20%20a%20variety%20of%20different%20sources.%20Dynamic%20temporal%20analysis%20of%20relationships%20between%20transcription%20and%20translation%20of%20key%20genes%20suggests%20several%20important%20mechanisms%20for%20cellular%20sustenance%20under%20anoxia%20as%20well%20as%20specific%20instances%20of%20%20post-transcriptional%20regulation.%22%2C%22date%22%3A%222007%20Oct%22%2C%22language%22%3A%22eng%22%2C%22DOI%22%3A%2210.1101%5C%2Fgr.6728007%22%2C%22ISSN%22%3A%221088-9051%201088-9051%22%2C%22url%22%3A%22%22%2C%22collections%22%3A%5B%225FRVZCA6%22%5D%2C%22dateModified%22%3A%222022-12-07T08%3A38%3A28Z%22%7D%7D%5D%7D