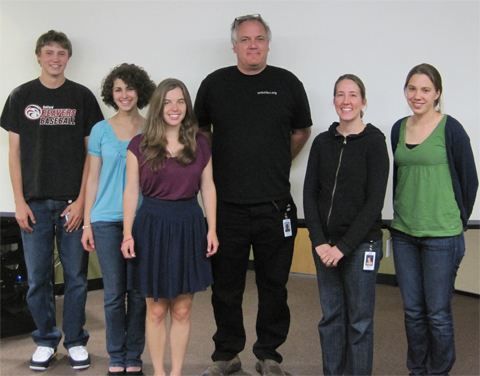 Goody: most like to never figure out the ferry system on a planet she created with micro-, regular-, and extreme-gravity all at the same time.
Danny: most likely to sneeze on an agar plate and then try to make the bacteria growing on it into a "D".

Aisha: most likely to organize everything using only ballpoint pens and parafilm.
Claudia: most likely to be here and not here at the same time.
Erik: most likely to get involved in some messy intergalactic governmental affair while taking his students on a field trip to Mars to see the Halobacteria there.
Mari: most likely to keep riding her monstrous bike once ground transport has been totally abandoned.
Brad: most likely to graffiti the top of the Burj Khalifa, the world's tallest building.
Alexis: most likely to write a piece of music using the only notes G, A, C, and T (a new note her intense research in frequencies will develop).
Baliga Lab Summer Education Program Presentation
(The video is in three parts)