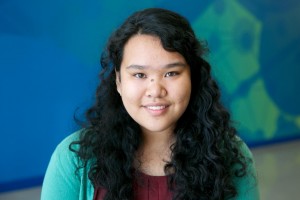 Joan is currently a high school student, ready to start her senior year in Raisbeck Aviation High School.
Her interest for life science began while watching Zaboomafoo and documentaries about scientists. Aside from the medical side to biology, she has a keen interest in marine life. She helps out with Citizens Science (lead by the Seattle Aquarium) surveying plots at Seattle's Beaches and identifying sea life and plants.
Her passion for helping others and learning about biology has strengthened throughout various internships and programs that she has attended throughout her high school years. Joan was an assistant counselor in a STEM (science, technology, engineering and mathematics) camp, teaching children about science. This was the segue for her interest of working with children. It also inspired her to co-found a Mu Alpha Theta math club at her school.  Furthermore, volunteering at Highline Medical Center inspired her to be passionate about medicine. It also sparked her interest to learn about life sciences in Science Olympiad. Her favorite internship she had prior to ISB was with the Federal Government at the FAA (Federal Aviation Administration). There, she worked with individuals at the Aerospace Medicine Office and researched about color vision deficiency, including its negative effects on pilots.
She is extremely thankful for her internship at ISB. During the internship she worked with Chlamydomonas reinhardtii to maximize lipid and biomass production for biofuels. She also worked with the other interns in monitoring the aquaponics systems.  ISB's unique method of collaborating numerous professions to find the solution, really interests Joan.  In the future she definitely plans to utilize everything she learned about science and research to become a pediatrician, anesthesiologist or to have a career in biology.
Aside from biology, she spends her free time surfing YouTube, baking, and listening to music. Joan loves food and can spend a whole day watching reruns of Fresh Prince of Bel Air.
To contact Joan Marie Aoanan please e-mail her at joanaoanan@gmail.com