Lee Hood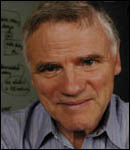 1. What is your educational and professional background?
Lee Hood did his undergraduate at Caltech University in Biology and Chemistry. Then he earned his MD at Johns Hopkins University. He returned to Caltech for his PhD in Biochemistry. Then he became a Senior Investigator at the NIH for three years. Next, he became an Assistant Professor at Caltech. He eventually became a full-time professor and chairman of biology. He moved to the UW in 1992. At UW, he founded the Department of Molecular Biology. Finally in 2000, he co-founded ISB with Alan Aderem and Ruedi Aebersold.
2. Why did you start ISB and how did you get involved with systems biology?
Lee first got interested in systems biology in the 1980s because "I was an immunologist then and I realized that a lot of what I was interested in we didn't have the tools to understand. I did one gene and one protein at a time kind of things." That was also when he got interested in and became one of the founders of the Human Genome Project. He tried to create a systems biology department at the UW but he was not successful, so he decided that he would be better off creating a non-profit, independent institute.
3. What is your overarching goal you are trying to achieve with this institute?
"I would say that there are many goals. One is to develop systems approaches to biology. Two is to develop technologies for making new kinds of measurements and new kinds of analysis. Three is I would say is to lay the foundations for computational and mathematical tools for capturing, storing, analyzing and modeling biological information. And finally, I want ISB to become an institution that transfers knowledge to society. And another goal more recently is to realize that systems biology made it possible to formulate really big problems. And one problem we really got interested in is P4 medicine: predictive, preventive, personalized and participatory."
4. What is the greatest challenge you have faced in making these goals come true?
According to Lee the greatest challenge was finding funding for the resources and the technologies needed for pursuing these large problems and projects.
5. What are some of the current projects that your lab, and the institute as a whole are working on to realize these goals?
"Well, I think that the driving force and the realization of P4 medicine will be a combination initially of a systems approach to diagnostics and devoting to lots of kinds of technology." Lee's group is currently working on a systems approach to diagnostics by researching protein markers released by organs into the blood stream. And they are developing a wide variety of technologies that can be read using these protein markers.
6. If you could go back in time, would you have done anything differently?
"No, I think I grew up in a wonderful, fortuitous time in science. My career evolved with the emergence of biotechnology and molecular biology and I have been lucky to be in good places and attract very good people to work for me. So I think if I could do anything over in my career path, there would only be small changes."

7. Where do you see yourself in the future?
"In my future, I would see myself staying out here as a faculty member until I cease to be productive and creative. I don't see myself leaving science."

8. Do you have any advice that you would give future scientists?
"I think the advice is to work with good people, to take stimulating, challenging problems, to really do a good job in whatever area you decide to do and to be responsible and willing to change and grow."